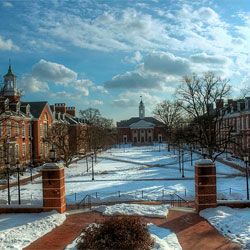 Well, the weather outside is frightful. But content is so delightful!
Okay, I guess we'll stick to blogging over caroling. Either way, while things are somewhat quiet between the end of the fall semester and the start of the spring, there are several discrete projects you can tackle to build your skill set and prepare for a new content-focused year. Here are a few of our ideas—and we can't wait to hear yours.
Perform a content checkup with a website inventory
So you've read a bunch about this content strategy stuff, but you've never had the opportunity to put it into practice. Well, now's your chance. A good start is getting up close and personal with a website—perhaps something high profile, or a small site you know you control and can change, if need be—and do a thorough site inventory.
A classic article by Adaptive Path's Jeffrey Veen offers a good overview of doing a content inventory, and it can be (as he says) "a mind-numbingly detailed odyssey through your website." But in the process, you'll learn a lot about your content, see where there's ROT and lay a great groundwork for making meaningful improvements to the site going forward.
Give the people the content that they want
We can read all the blog posts and attend all the conference presentations in the world, but figuring out how to give our audience the content they would most valuable is as simple as asking them. For social media, it's a good year-end tactic to ask, "How can we make Twitter/Facebook/whatever more fun and useful to you in 2012?" You may be surprised by what you hear. If you want to take a more concerted approach, begin thinking about focus groups or surveys and what you might want to learn from them.
You can also find some hints in your search logs. Let's say you're planning content for the spring semester. What content are users looking for in line with the deadlines, milestones and special events that transpire over that time? Look back at the web analytics for last spring and see what search terms and pages were popular from week to week. Depending on what you find, adjust your content calendar to raise the visibility of highly sought after content, or make a plan to create content to meet the needs of your site visitors. This 2010 blog post from the Content Marketing Institute shares some tips on finding content ideas in your analytics report. Our audience is telling us what they want. Let's give it to them.
List your greatest hits to top next year
What stories got viewed the most in the past year? What stories got the most Facebook love or retweets? What comments (whether on the story or via social media) added the most value to a story? A top ten list of your most popular stories of the year, contextualized by resultant social chatter, comments, media coverage or stats of note, may be a cool way to wrap up the semester and get people reflecting on another successful calendar year at your institution. And it will also help you better understand what content resonated with your audience—good to know as you plan for 2012.
Organize your social content
The social chatter will be quieter during the holidays, which provides you with a great opportunity to create those Twitter lists, publish lists of relevant Facebook pages (and "like" them) from your top-level Facebook account, build YouTube playlists, craft sets in Flickr… you get the drill. With regard to YouTube, The Next Web shares how some careful organization can result in bolstering your YouTube channel beyond creating your own original content. While others may have the luxury of spring cleaning, we can be better prepared to engage and feature social content come the spring if we do our tidying during the calmer days of early winter.
Have coffee—lots of coffee—with your campus content partners
The path to meaningful change for our web content processes is paved by our relationships. So these quieter days are a great time to reach out to colleagues familiar and foreign, set up coffee (or tea) dates and get to know one another. Perhaps you can sow the seeds for the formation of a campus content group if you don't have one already, or begin sharing content calendars and editorial plans.
Get your content on with some light reading
Few things are more comforting than curling up with a good book on a cold and snowy day. Well, you can do the same at work and learn a thing or two along the way. Our library has some great suggestions for books to aid in your understanding of making and maintaining quality content, like Erin Kissane's The Elements of Content Strategy. Looking for something even lighter? Our library also links to several ebooks on topics ranging from metadata to content curation.
Or, take this challenge: go to the blogs section of our library, pick four blogs at random, find a post from the past three months on each of those blogs that talks about something you're unfamiliar with, and over the next four months, explore one of those things per week. For example, you could end up learning more about developing a content-driven mobile website, running and measuring controlled marketing experiments, crafting more effective "About" pages and building valuable communities via Instagram. Try it!
What are some other good content-minded projects to tackle during winter break?