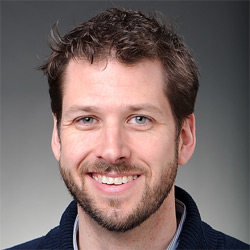 How can we use content to develop a true sense of community—both online and off—among our audiences? Whether it's through a revamped newsletter or new ways of using social channels, University of Wisconsin-Madison social media and internal communications manager John Lucas has made it work.
Through his work on innovative projects like #UWRightNow, a 24-hour crowdsourced snapshot of life on campus, the Bucky Challenge, a social media scavenger hunt, and his role organizing the #UWSocial internal community, Lucas has gained acclaim for his ability to take social media to the next level in building relationships and driving real-world action.
Lucas did time as a reporter in Chicago for about six years, but after getting burned out on the newspaper grind, he hearkened back to his days as a college newspaper editor at Notre Dame covering life on a college campus. So he came to Madison, Wis., a city he had always heard great things about, and started working in student life communications for the University of Wisconsin-Madison in 2001.
We reached out to John to talk about his experiences building online (and offline) community—among not just students, but also faculty, staff and alumni—via social media at UW-Madison.
Overhauling Internal Communications
MC: I'd like to talk about internal communications and the faculty/staff newsletter you retooled. I find that really intriguing. From my own experience and from talking to other people, internal communications is a huge challenge.
Lucas: Internal communications is something I'm really passionate about. We're now in our second year with what we call Inside UW-Madison. We had this old print newspaper and it was just a disaster at the end. They were putting it on news racks and no one was picking it up, and we didn't know who was reading it.
So I led a process where we moved over to an HTML newsletter template. Again, nothing particularly fancy about the look or feel of it, but it was really a chance to re-envision how we were talking with our 16,000 employees. [It was an opportunity to go beyond solely focusing] on what the institution wants to tell its audiences, but think about what people might actually be interested in and what would drive them to open your newsletter and actually click.
The one thing that always bothered me here was, we have a huge college of agriculture, a huge extension school, a school of veterinary medicine, and we were constantly shoving recycled research stories and news releases into this faculty/staff newspaper. Well, you can think about what people like to read in the newspaper. We probably skew female, older, 35+. People are interested in things that speak to their life. First, on the news side, it's parking. It's about benefits. It's pay plans. You try to develop content that reflects the news that they are interested in.
It was really a chance to re-envision how we were talking with our 16,000 employees and think about what people might actually be interested in reading.
But then you try to find some, for lack of a better term, lifestyle content that leverages the people we have here who are experts. We've got a horticulture department that is one of the best in the world, and they can tell you how to grow any plant that you'd want to grow. Why couldn't we go and find folks like that, instead of taking solely research expertise, and go develop content that talks to people where they live—about their health, about food and cooking, their gardens, their lawns—and trying to connect to people on a level where the internal product was reaching them with something they found was interesting or useful or humorous or "Gee whiz, I didn't know that about this campus."
For the longest time, we were filling this paper with this recycled copy, so the HTML really liberated us because we could go out and link anywhere. We can convince people from the business school to write about the Super Bowl ads or what you might see ahead of the Super Bowl, or convince people from the school of veterinary medicine to write about pet care. We've got a huge health system here—what useful tips they can give you? It's marathon training season, so here's what to think about if you're going to run a marathon. That formula has been well received.
We feel like we've got a pretty strong open rate—I want to say now that it is upwards of 25-30%.
Check out The Weekly, UW-Madison's new digital news hub "created by UW-Madison students for UW-Madison students."
Being Prepared
Hear John talk about the approach UW-Madison took to revamping its crisis communications processes and infrastructure.
Social at Every Turn
MC: One thing that sticks out about what Madison is doing is this idea of everything being social, and looking at every turn for an opportunity to engage the audience and drive real world actions. Could you talk some more about that approach?
Lucas: One thing that was a really big moment for me was when I saw Seth Odell in Austin last year [at HighEdWeb] and he was talking about how they had really thought about events differently. Why not stream your convocation and give people a way to engage in it and connect with it? And that was really powerful to me. That's really been what I wanted to do for a long time here.
Everyone is talking about engagement in social. I believe if we make those connections with people—whether it is them sharing their photos from Commencement, whether it's congratulating them over Twitter at their graduation and then creating a Storify that sort of creates the institution's social media present to you for your graduation—I feel like we essentially start to do the work of our alumni association. We've cemented a bond that they have with the institution and then as they progress through the continuum.
And you can even take it back to them as a prospective student. If I tweet with you and encourage you to apply, you're probably X percent more likely to take that action and apply. And if I congratulate you when you say you have applied, maybe you are more likely to actually attend. And then if I congratulate you for actually getting an A on your term paper then you're more likely to continue. We just try to keep the relationship going on the continuum at whatever stage that they are at.
Create a social experience and let them see themselves reflected in the institution… That's it in a nutshell.
As we move them through the continuum, all those things pay dividends for the institution. They're engaged with us. They might take our information. They are going to share a photo that we can showcase. As they graduate, they might go to a chapter event and become an active alum. They've talked to us before and they trust us. They're going to make a call or send a letter or share their network.
We started an annual giving campaign called Share the Wonderful. It's really the first time that we've been serious and seeded up and down through all of social channels—the need for us to talk about the institution and the importance of private giving and how these alums can help. Madison was wonderful, and we want to share the wonderful with the future, and you can share with us and help us stay wonderful—that's the message. However I can create that relationship with you and enhance your affinity with us, that will serve us. First, it's being good people, but it also serves the institution at multiple points down the line.
And I think that's the beauty of it. Create a social experience and let them see themselves reflected in the institution, tell their stories, see their stories shared, and, gosh, let them create friends for life. That's it in a nutshell.
Come Together
Hear John talk about using social media to build community both online and offline.
Learn more about community engagement at UW-Madison and the #UWSocial initiative
Get the scoop on #uwrightnow, a 24-hour crowdsourced digital snapshot of the UW-Madison community
Getting Social at the Table
MC: How do you get social at the table and how do you, for things like this advancement campaign or anything else you've done, advocate for that?
Lucas: This is an unusual place. It's probably like Berkeley or Colorado. It does kind of have this history of being free-wheeling and fun and a little bit off-kilter.
We have two iconic images of Madison. There is one, if you've seen Planet of the Apes, where they have the Statue of Liberty sunken in the ocean, we do that around here. We have a lake and in the frozen lake, the Statue of Liberty is coming out of the lake. It was a great prank. And then one day somebody put like 5,000 flamingos on our main lawn on Bascom Hill. And you know, there are these two iconic images that are in the DNA of this place, and so somebody actually codified them in our brand platform and called it "inspired goofiness." So, that phrase is in print and basically allowed us to do a lot on the accounts that I think made us really appealing to people.
We were able to kind of be fun and free-wheeling. I mean, we dealt with serious stuff, like crises and debt and budgets, but if you look at a lot of places it really goes back to their tone and their voice, and do they give you anything of value. I can think of about 10 big name universities that, yeah, sure, I follow them, but do I care for their updates? No, not really. I mean, do I get anything interesting? Would they ever joke with me or would we ever have fun? No. So, I think at the very bottom of it is who you are and who you can be as an institution. And if you have a personality, a heart and a voice, it allows you to connect with all of these people and start to grow. And once you grow and you start to kind of put yourself into different projects and have some small successes with promotions of events or little things, gradually people have noticed.
You do things on a day-to-day basis and then you build relationships with other folks on campus who can see it and believe it, and you think of ways to collaborate together on other events.
I have to give a ton of credit to our foundation here. They came to me this time last year and they had a young alumni donor who is a total Twitter guy. And he sat down with them and said, my family wants to make this gift of $50,000 but could we do it in a way that's different than us just putting out a press release that we got this gift. Could we think of a way to leverage social, which he loved, in sort of inspiring people to like and follow us. So we did this thing all last fall called the Bucky Challenge, which was a pretty standard contest. You know, give us 5,000 likes or whatever. But he was funding scholarships for the first time using social media, which I think is the first time that ever happened. He had enough foresight and enough generosity to not only think about making the gift but think about trying to amplify the gift. I think they always see that potential out there of how can you use these channels to reach young alums? How does that fit in their mix? It had a pretty good response. We got 20,000 followers across both our Facebook and Twitter and then our Alumni Association's Facebook and Twitter over a couple of weeks. It wasn't totally overwhelming, but we were able to talk about fundraising during the course of it and what it means. I think between that aspect and the publicity of the contest, it was successful.
I think with that small step with them, you just work your way up. You do things on a day-to-day basis and then you build relationships with other folks on campus who can see it and believe it, and you think of ways to collaborate together on other events. Then you just keep stair-stepping to the point where, our vice chancellor isn't an expert in social media, but he knows that it has a role and it can be an asset. So I think the more we're given the opportunity to do, the more it will both grow.
Ch-ch-ch-ch-changes
Hear John talk about how you can see a community evolve through social media.