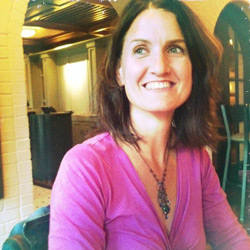 One of the biggest challenges we face in higher ed getting people to buy into the value of content strategy and build support for content across our organization. At Vanderbilt University in Nashville, Tenn., executive director of integrated communications Melanie Moran has rung up a string of successes doing just that.
Whether it's their news site, the 365@VU photo project, the alumni magazine or a recent reorganization, Moran and her team at Vanderbilt seek opportunities to build a smart, holistic, audience-centric approach to web publishing across the university. Last April, Moran authored a post on the Vanderbilt web communications blog that articulated her approach in compelling detail.
Moran studied political science at Penn State and got a graduate degree in public policy from Indiana University. From there, she began doing environmental policy work for the Tennessee Department of Environment and Conservation. When the state went online, she pitched in to help develop the state's first website. Following that, her career focused on communications and media relations—and an abiding interest in the web.
Nine years ago, she brought that blended skillset to a different kind of institution, switching gears from government to higher ed. Since joining Vanderbilt, she says she approaches her job "always from a content perspective and looking at how can we use the technology to get our stories to the biggest audience possible." We asked her to talk more her experiences doing just that.
Letting Stories Lead the Way
MC: How do you achieve the coordination and the efficiency to tell stories efficiently across a range of channels and platforms?
Moran: That came about from looking at our stories and seeing how frequently we started with "Vanderbilt did this" or "Vanderbilt did that" and then got around to the story. Our office is full of former journalists and nobody is going to write that kind of story. So, we just tried to switch things around—"What is the story? What is the discovery? What is the news?"—and trying to get Vanderbilt a little bit out of the way and showing people rather than telling them what an interesting place this is.
So, I think that's the germ of it—trying to get away from serving a particular college or a particular department or even a particular faculty member, and really focusing on the story, because that's what's going to have legs. That is what's going to interest people and engage them with Vanderbilt.
Here at Vanderbilt, we do have communicators scattered all across the university, and they are all working really hard to tell those stories about their places, but in the past they really weren't coordinated in any way. We do have a monthly meeting of all communicators across campus where we share ideas, but other than that, that's kind of after the fact rather than trying to get ahead of the story and making it as robust and dynamic as we can.
The first step is getting the people, the content generators, around the table, talking in a regular way.
We just recently did a pretty major reorganization, where we pulled the staff who were acting as editors of our magazines for various alumni populations into news and communications into a new team called Integrated Communications. It includes those folks who are editors, Lacy [Tite] and the rest of the web communications team, and internal communications as well, as well as our main flagship publication, Vanderbilt Magazine. We sit within news and communications, too, which is full of writers who are working with the media and also producing video.
By pulling everybody into one place, then the magic happens. The story first happens because we're talking to each other. We're sharing ideas on the front end, we're hearing what our colleagues are working on and we'll say "oh, have you thought about how we're going to do that online. Have you thought about how the school of engineering can use that? I know we have this weekly newscast. We can include the story there."
The first step is getting the people, the content generators, around the table, talking in a regular way. But also just constantly communicating and reiterating with everyone, "Let's think about all the different ways to tell this story and what's the best way to communicate it, where it is going to get people's attention and engage them."
'Blurring the Boundaries'
Hear Melanie talk about integrating your social media content with website and news content in order to spur engagement:
Managing Content Management
MC: You guys have found a way to make content management work for you, not you working for content management. Organizationally, how did you achieve that? Not so much the technical execution but getting the buy in around that.
Moran: I think it's a beautiful story, because if you look back a couple years ago, we were using a content management system for our news site, and each of the colleges around campus was using something they had purchased on their own. The system we were using was somewhat supported by the university but not in a robust way, and its features aren't particularly robust and everyone else was pretty much on their own.
There were a lot of barriers to entry to have great content on your website, because if you didn't have a CMS—which many people didn't—then you were off trying to figure out how to do this in Dreamweaver. You maybe had one person in your office who knew how to update the site and then they would leave. It was a mess. There were so many wasted resources, both financially and in people's time.
I think the tipping point for it was pain. It was clearly not sustainable. It was not efficient and some leadership—including our Vice Chancellor and at the time the leader of Information Technology—kind of gave me the go ahead to start seeking out a CMS that the university could support and purchase and make available to everyone.
I pulled together a group of stakeholders who were interested in content management systems and we evaluated a bunch of proprietary products and also open source products and landed with OmniUpdate as the proprietary product. We were looking for something that would be easy to use for the average person, was robust, was scalable and particularly offered flexible templating.
There were a lot of barriers to entry to have great content on your website… There were so many wasted resources, both financially and in people's time.
I kind of approached it with a 70-30 mindset—that if we could get about 70 percent of the websites on campus using a central supported system, there will always be people out there who want to do their own thing and that's fine, but if we could get the bulk of them using this, I thought our overall web presence would dramatically improve. And I'm happy to say that is definitely happened.
In terms of buy-in, we did not take a stick approach; it was more a carrot. We offered the service and the things it had going for it. It was free, it was supported and it looks great and it works. And those are hard to argue with when you've been spending tens of thousands of dollars with outside vendors on products you may or may not have been satisfied with.
The last thing that has really made this sing is the support. In the past there was no central web office that supported web development on campus and our office does that now. So, from big support to little support, we answer questions, we're available every day, we offer an online help desk, free trainings, so that is key. There is no barrier. It is not this hurdle or this scary thing for you to an up-to-date, good looking, functional website anymore.
Sharing the Content Gospel
MC: How do you really spread that word and get other people invested in that idea and your approach to how content should work and why this particular approach is valuable? How do you get people invested in that across the university?
Moran: In the past, I would have said we do a monthly meeting of a group called Digital VU, that is just people on campus who are just interested in anything related to technology or web or mobile communications. So we would do some sessions around that idea there.
But now with the new Integrated Communications team, we're building this approach into each of the school's strategic communications plans, starting with your strategic need, your audience first, and then stepping back and saying, "How do I reach them in the best way? Is it through my website? Is it through a brochure? Is it through an event?"
We start with your strategic need and then step back and say, "How do I reach them in the best way? Is it through my website? Is it through a brochure? Is it through an event?"
Because we've reorganized and established this communication planning process across the institution, we now actually have a structural way to bring this message to people and explain it and dig into it and really look at what does this mean.
Part of the new communication planning process is that we have monthly meetings with each of the schools, and around the table is the big group of stakeholders—if the school has an embedded communications person, that person, our central staff, the people who are doing development, and alumni relations, the admissions folks. So everyone is sitting around saying, "Here are our needs, here are our goals for the year," and how do we get this all to start pulling in the same direction.
It's a Process
As Moran's experience indicates, taking a 'content first' approach is easier said than done. It takes patience, planning, and a bit of shoe leather. But in the end, the results are worth it. Organizational efficiency and effective communications are pretty sweet outcomes, no?
How are you building a content culture at your institution?