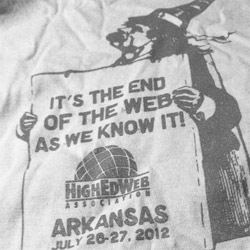 Last week, higher ed web professionals from the South, the Midwest and points beyond gathered in Little Rock, Arkansas, for the third annual HighEdWeb Arkansas regional conference. And the event, well, rocked. In particular, there were several sessions covering topics where content plays a vital role.
We sat down with some of these speakers and asked them to share highlights from their talks.
Community Engagement FTW
Robin Smail, renegade element at Firebrand Tribe and formerly of Penn State University, encouraged people to not be afraid to say "I Do" to community engagement. Because after all, she said, it comes down to relationships. Here, she talks about the role content plays in maintaining those relationships with our audiences.
COPE-ing To Tell Better Stories
John Rogerson, director of web and digital media communications at Sewanee: The University of the South, walked through how he has implemented an NPR-style COPE (Create Once, Publish Everywhere) approach using the Expression Engine CMS. Here, he discusses the COPE approach as it relates to the importance of content strategy in helping us tell stories that help us differentiate ourselves. (You can also read Rogerson's contributions to our earlier post on content planning for a responsive web design.)
A Video Studio in Your Pocket
Brent Passmore, director of web development at the University of Central Arkansas, and Carrie Phillips, director of new media at Arkansas Tech University, not only talked about how your iPhone may be all you need to create compelling video content, but they demoed the process during their session. Here, they talk about how videos shot and edited on an iPhone can support our real-time communications efforts. You can also read an outline of the topics and resources [PDF] they covered in their session.
Getting the Most Out of Our Press Release
Lori Packer, web editor at the University of Rochester, talked about the importance of revisiting the humble press release. These ubiquitous pieces of content are no longer just for the media—on the web, she says, they're for everybody. Here, she shares some tips on how we can optimize our news releases for the web. (You can also read Lori's contributions to our earlier post on the future of PR, or view the slide deck from her HighEdWeb Arkansas presentation.)
Were you at HighEdWeb Arkansas? What were your favorite takeaways?
(Full disclosure: I had the honor of keynoting HighEdWeb Arkansas in 2011.)
Photo by HighEdWeb Arkansas via Flickr (Used with permission)