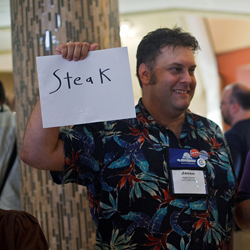 Last week, we traveled to Austin, TX, for HighEdWeb 2011, one of the most eagerly anticipated events on our calendar. We were excited to present on making quality content count with web analytics (Rick) and reinventing news on your university website (Georgy, who received a Red Stapler and Best of Conference honor for the session).
While the content track was held on the hotel's top floor — "closest to heaven," as many put it — we gleaned divine insights on how to improve higher ed web content from across the entire spectrum of sessions.
Here's a roundup of some of the food for thought we brought home. Believe it or not, we still had room after several plates of Texas BBQ. Now that's some meat content.
Community as Co-Author
Emerson College's Mike Petroff discussed uses of social media beyond marketing, for customer service (which, it turns out, can be the best kind of marketing). One of the valuable points he made was that our community is the co-author of our brand narrative. As SUNY Oswego's Tim Nekritz paraphrased in tweeting about the session, "What your customers say is just as important/powerful as what you're saying about your brand."
So how do we make this work? Petroff talked about creating a social knowledgebase, powered by real people's real questions and answers, which is far more helpful than a typical FAQ. He cited SUNY Oswego's as a good example for helping us "out-care the competition."
Goal-Driven Content Creation and Delivery
Mallory Wood from mStoner continued the brand and customer service theme as she talked planning for student-authored brand content. She stressed the need to align communication and content goals with delivery methods. Is Twitter and Facebook most effective at attracting your target audience? What about YouTube or Formspring? Understanding how and where your audience is engaging online informs content planning, creation, and delivery.
Perhaps the most tweeted message from her session was "Goals before tools." Indeed, with all the social media content channels available, we need to be careful we're selecting the ones that are most effective and appropriate for our communication goals.
Smarter Engagement
The hook for the session by University of Florida's Jeff Stevens — I'd Buy That For a Dollar: What Robocop Can Teach us about Alumni Engagement — was, well, Robocop. But that only scratched the surface of the examples he shared for how we can cultivate smarter models of engagement with our audiences — in his case, alumni.
Stevens echoed a point Georgy made in her presentation — we need to start thinking differently, thinking bigger, and looking for inspiration beyond our immediate tableau. For giving, why not models like Kiva or Kickstarter? Why not find ways to capitalize on community, like the Mercedes-Benz Tweet Race did? For our copy, why not be as snappy and irreverent as Groupon, if it gets the job done?
Stevens also discussed the value in coupling the "ask" with a narrative that reinforces the impact of their gift. We can even learn how to better involve and engage our audiences from, yes, Farmville and other gaming platforms.
What context is our audience coming from? What are their motivations? The more empathic we are to this, the more successful our efforts will be.
Content Strategy: Be Practical
Kate Johnson from the University of Denver discussed practical methods for content planning and creation in a university setting. She encouraged us to focus on process and not to be overwhelmed by trying to solve all our content problems at once. Developing the tools — in the form of content questionnaires, inventory spreadsheets, content templates, and style guides — for content planning and creation enables content owners to focus on and prioritize the important work. Johnson shared her web content strategy toolkit with downloadable files.
Content is Data
Jeremy Friesen and Erik Runyon of Notre Dame discussed the value of creating APIs to un-silo content and allow for easy sharing and re-use by applications and users. Their CMS, calendar, campus map and mobile site all thrive on the re-use of content from other sources via API. Creating a culture of open data on campus, they said, will lead to smarter application development and better end-user experience.
This was closely tied to what Doug Beck and Roger Wolf of the University of Central Florida discussed in their session, A Utility Belt Approach to Mobilized Content. I loved their call to "create legendary data sources," taking a content-first and audience-centric approach.
As content creators, it is our responsibility to make sure our content is available in a computer-readable format, to facilitate re-use and sharing. Data sources, they said, are like Batman: awesome. They also shared a maxim that should be taped to all of our walls: "Be brief, be bright, be done."
Raising Content from the Dead
Speaking of APIs… Brad Mitchell and Sara Clark from Missouri State University gave a zombie-themed talk about how they created an "institutional lifestream" on their school's homepage, pulling content from a variety of sources university-wide in order to create one-stop shopping for information-sharing and community-building — as well as to solve problem of everyone wanting to be on homepage.
While technically aggregation versus curation, Mitchell and Clark created firm criteria to guide which sources get fed onto which page, developed a way to find balance between more frequent and less frequent content creators and grouped certain sources to be piped into relevant pages (e.g. Residence Life, Student Life). Harvard also did something similar with their recent homepage redesign.
We can see pros and cons to these lifestreams, but either way, it prompts a worthwhile discussion about how we can best use and share content that is created on all corners of our campus.
What were your top web content takeaways from this year's HighEdWeb conference? Hope to see you next year in Milwaukee!