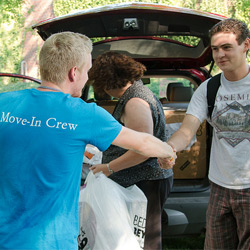 It's that time of the year again, when the sounds of rolling suitcases, idling car engines, greetings and goodbyes resonate across campus. That's right, for many of us, it's move-in time. In addition to returning students, we've got freshmen and transfer students arriving on campus, wide-eyed and wondering what the next few years will bring.
Move-in presents a rich opportunity to create powerful content. There are many stories to be told — about the students, their parents, the move-in process itself, any start-of-semester traditions we may have — and we can bring social media, photo and video, and text together in interesting ways to tell them. But how do we do it best?
On Aug. 24, 2012, we hosted a discussion via Google+ Hangout with Ithaca College's Rob Engelsman, Multimedia Content Specialist, and Dave Cameron, Recruitment Marketing Web Content Producer, about their experiences covering move-in. Ma'ayan Plaut, social media coordinator at Oberlin College, also shared some of her experiences and insights. You can watch a recording here:
What stood out to me from our discussion was how much move-in presents an opportunity to build and strengthen relationships that may have been initially kindled via social media. By reinforcing that online experience with a reaffirming offline experience, we create a more powerful and meaningful relationship (both online and off) going forward. We're real people who actually care, not just faceless social media account managers. And on what may be a scary or overwhelming day for many of those students, seeing a "familiar" face and and simply knowing someone cares can mean all the difference.
Check out the Storify of advice for the class of 2016 compiled by Ithaca College leading up to move-in, plus this recap of Oberlin's coverage from 2011.
How do you cover move-in? Got some links of your own? Please add them in the comments!