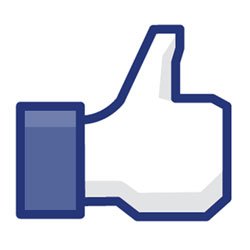 Here's a poke for you: Facebook has changed everything—again. But this time, it has an even more significant impact on the way we use the ubiquitous social network to build community through content.
Facebook Pages, the main platform for brands in Mark Zuckerberg's universe, have gotten short shrift from the recent changes. Page content is noticeably missing from users' news feeds, and as blogger Colin Alsheimer wrote, "The emphasis on contextual and relevancy filters will ultimately lead to users being exposed to less newsfeed content, not more. Considering that most brands were already only reaching 3%-7.5% of their fans, this is likely to get ugly."
It's also likely that Facebook Pages will eventually assume the new Timeline layout. On Mashable, Zeny Huang contended that new layout will promote increased engagement through greater visibility of content, information and images. In addition, users no longer have to "like" a page in order to interact with it.
Any way you look at it, it's a whole new ballgame.
Some smart folks in higher ed have already realized what these changes now require of us: to focus less on the Page itself (better reconsider those fancy landing tabs!) and more on the content we're putting there and where it comes from.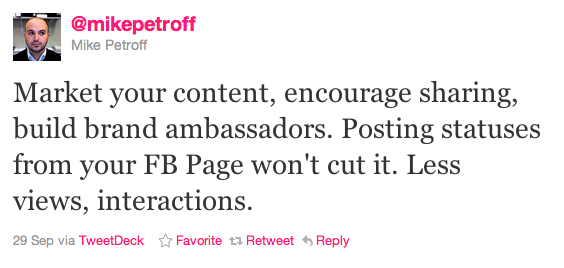 Make Meaningful Content
To survive in this new Facebook world, we need to do an even better job of creating and sharing exceptional, meaningful content. Webster University's Patrick Powers, who recently delved into these changes on Higher Ed Live, put it best:
It's more important than ever to be awesome. Awesome Facebook posts stick. Awesome posts generate comments and get shared with others. People subscribe to awesome posts.
So, how do we be awesome? Here are some ideas:
Be topical: Facebook is now clustering posts around like topics. So, thinking back to the August earthquake, you may want to find a relevant faculty member or research to post about so your post shows up as relevant among other posts mentioning the quake. Talk about what your community's friends are talking about. Vadim Lavrusik, journalist program manager for Facebook, shared more about this in a comment on the Lost Remote blog.
Post rich media: With the boost Facebook already gives photo and video content, combined with the larger treatment the new layout gives this content, posting more rich media will help you retain your Facebook eyeballs. Photo contests, sharing videos created by student groups, photo-a-day posts featuring student portraits or campus landmarks, quickie video interviews with faculty… the list of possibilities goes on.
Corner your niche: Over on .eduGuru, Southern New Hampshire University's Karlyn Morissette argued that with the increased emphasis on engagement and relevance, we should go niche with our Facebook presences rather than having "one page to rule them all," allowing us to create and share more targeted content with our audiences.
Get interactive: Nonprofit social media consultant John Haydon says the onus is on us to create content worthy of engagement. "Stop posting updates just to boost your EdgeRank, and start creating deeper and broader discussions with Facebook users," he advises. Lost Remote says creating content that will gain multiple likes and comments helps you stand a better chance of staying in the news feed. (Facebook is even creating a new metric for pages that measures this.) Blogger Kim Wilson shared a host of tips on how to do this, such as asking open-ended questions, sharing emotional or uplifting stories and highlighting a notable quote.
Moving Beyond the Like
Facebook is also going to allow us to customize the iconic like button with our own verbs. The goal is to encourage greater alignment between real-world and online activities.
Will "Put a Donate verb on Facebook" become the new "Put a Donate button on the homepage"?
This begs the question: How will this feature impact our content? What are the actions that mean the most to us? How will we adapt these for how our users can share content via Facebook? Will "Put a Donate verb on Facebook" become the new "Put a Donate button on the homepage"?
As nonprofit technology consultant Beth Kanter rightly observes, "Organizations need to think about what motivates supporters to do something that moves the needle on their outcomes." So we must share content that encourages users to take these strategic actions.
Is the Web Up Against the Wall?
Is Facebook replacing the web? George F. Snell III, senior vice president of digital communications for Weber Shandwick, says yes. "Instead of heading out onto the web—the web is being delivered to us on Facebook—filtered not by algorithms, but by friends, family and acquaintances."
Facebook doesn't own our story—we do.
It's easy to see why brands may be tempted to go all Facebook, all the time, tailoring our content efforts to fit the framework the service provides. "Brands, especially small businesses, may forgo creating a blog or unique domain page, opting to use Facebook Timeline instead due to the massive number of active Facebook users and the simplicity of setting up a page," Huang wrote in the aforementioned Mashable article.
However, this would be a terrible decision. It would be tantamount to outsourcing our content planning to Facebook. And Facebook doesn't own our story—we do.
Sure, we need to be there. We need to adapt our story to the rubric Facebook provides. But we shouldn't wholly abdicate it to them. We need to continue to plan content from a multichannel perspective, with our websites at the core.
In the wake of the Facebook changes, NM Incite executive vice president Pete Blackshaw wrote in AdAge, "Do brand websites still matter?" His answer was a resounding "Yes." Simply put, "Websites are important because you own them."
A smart website feeds and refreshes the brand stands. It anchors the brand database, arguably the most coveted asset, and sets the tone and standard for the brand's ethos and attitude about feedback, expression and service. … A great website also smartly syndicates, re-circulates and curates social content from the brand stands.
Thinking of our websites as the hub of our content efforts is more important now than ever before.
Thinking of our websites as the hub of our content efforts is more important now than ever before. Why? Because if nothing else, these Facebook changes remind us our Pages do not belong to us. We don't own our Twitter accounts or our YouTube channels. They are valuable channels that we sublease as a means to distribute our content and build our community—as Blackshaw calls them, our "brand stands." But they can change at any moment, in any respect, and we can't control that. We do, however, control our websites and the content that originates there. And, as Petroff and Hennigan emphasized in their tweets, that content is our biggest asset.
Facebook may be changing the game, but don't let it change the player. And make sure you bring your own ball.