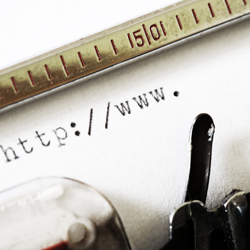 Over the last few years, a popular phrase has gained popularity in higher education as well as the broader community of web professionals: Think like a publisher and less like a marketer. This thinking is a backlash against outdated "push marketing" and communications that interrupt and distract users rather than inform and attract them. Hearing this message continually reinforced gets me pumped because it's a mindset I strongly support.
Indeed, the advent of the web and electronic communications has put the power of publishing in the hands of everyone with computer and internet access. And in order to make use of this power, we need to understand what it means to be a publisher.
However, the mantra think like a publisher has become garbled regarding implementation and is now more a catch phrase than a useful mindset. Moreover, the traditional publishing industry itself doesn't have its business models worked out — it, too, is struggling to define electronic publishing. To succeed, we must all think differently.
Breaking the Mold
The web has a lot to learn from the publishing industry, but it also has a lot to teach in turn. Content strategist Erin Kissane talked about this in a call to arms for publishers and content professionals:
Publishing online requires a known set of skills: creative leadership, design, editing, production, quality control, and ongoing planning and management. It also takes a few new skills, like community management, curation, and semantic wrangling, most of which are borrowed from other disciplines.
As web professionals, we have to understand the important teachings of the traditional publishing industry while improving upon these teachings to suit the world of new publishing. Here are a few important differences we need keep in mind.
Where Traditional Publishing Succeeds
Publishing is a process, not a project.
Organizations often manage their website as a series of projects rather than as a continual process. This mentality is most commonly found with website redesigns. "Yeah, we know our website stinks, but we're going to redesign it next fall, and it will be great again."
Instead of managing a web and content strategy to create and sustain a quality website, organizations often wait until their website is completely unmanageable and ineffective, then blow it up and start over again. A website redesign doesn't make up for an ongoing content and governance plan.
Publishing is a production, demanding many roles and ample expertise.
Producing and governing a website calls for a lot of different skills: creative direction, writing, editing, design, development — not to mention skills related to community management, usability, analysis, SEO and a dozen other associated disciplines. Yet many organizations try to meet these needs with one or two employees. Many still commonly treat the web as an "add-on" rather than a primary communication tool.
Publishing requires editorial oversight.
Writer and editor Mandy Brown has it right when she says, "As the web forces us to speed up our publishing process, editing is often the first thing to be thrown out." Who has time for editing? "We just need a new webpage — nothing fancy." However, with this continual oversight, misplaced commas and run-on sentences are the least of your worries.
Without an editorial plan, you compromise your communication goals — the very reason you have a website to begin with. We all need editorial oversight to ensure that the content we create and publish is on-brand and supports our communication goals, not detracts from them.
Where Traditional Publishing Fails
We must converse, not broadcast.
Publishing is no longer simply a method of broadcasting ideas. As Brown says, "Part of the job of a publisher today is to facilitate discussion — and that means being a part of it. It means that we publish for people, not to them."
Conversations with our community are not limited to Facebook and Twitter; they are the method by which we communicate online. The web is inherently social, and publishers need to think differently about the way they communicate in order to be effective.
Publication is the beginning, not the end.
For traditional publishers, once they publish a product, they move on to the next one. This process doesn't work on the web. After we publish web content, we need to govern it. Content lives on the web indefinitely, often taking on new form and meaning over time. It requires continual assessment and revisions. Gone are the days of "print and move on."
We have to consider a broader scope of users' needs.
On the web, useful and relevant content is not enough — it must also be accessible, searchable, findable, portable, usable and contextually relevant. This is why cut and paste to the web doesn't work and why writing for the web is so different from writing for print.
We must consider different publishing platforms, devices and the context by which we perceive and use content. Moreover, users' needs change rapidly as the many ways in which users consume content increases.
Publishing is a much more daunting task when you don't have complete control of the final product. But we can't ignore these changes. They define what publishing is today.
These are some of the more prevalent differences between old and new publishing, but there are many others to consider. What differences do you think organizations should be more mindful of? What publishing lessons haven't web professionals learned (or un-learned) yet?