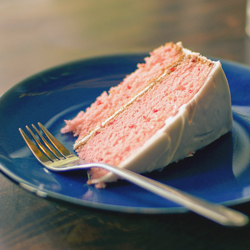 Last week Meet Content attended Confab: The Content Strategy Conference. We joined web content professionals from around the world to talk content and eat cake. (Seriously, our host Brain Traffic was not kidding when they said the days of content and cake were coming — the subsequent sugar highs were not just metaphorical.)
To our delight, higher ed was well represented (check out our higher ed Confab Twitter list). In fact, organizers had to double the number of higher ed lunch tables on day two. Higher ed is embracing content strategy. It was exciting to see colleagues taking a leading role in defining the discipline.
Joe Pulizzi, co-author of Get Content, Get Customers, called the event a tipping point for content strategy. This is particularly true for higher ed. As Diana Lowry from the University of British Columbia said, "There are a lot of us in higher ed that are really interested in focusing on content — yay, finally." Here's what she and other higher ed attendees took away from Confab:
Now, let's share some of our favorite takeaways from the cake party — er, conference:
Say No to Silos — The Web Is Multidisciplinary
Make Your Context Flexible
Think Through Your Content Creation
Put the User First
A Change Is A-Comin'
While Confab brought together hundreds of talented people doing great work in their fields, the event was not a congratulatory celebration for a job well done; rather, it was more like a project kick-off meeting. The project? Making content strategy a must-have for the web, not a nice-to-have.
In higher ed, where organizational culture can be even harder to budge, making content work is no small task. But judging from the large number of energetic, committed and talented higher ed content folks we met at Confab, we can tell change is a-comin'.
Were you at Confab or did you follow #confab on Twitter? If so, what were your takeaways? What else do we need to think about?