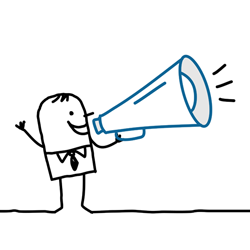 Last week, Georgy talked about the importance of headlines for introducing stories and enticing readers. But how do these lessons learned for headlines in news and featured content translate to other forms of content — such as admissions and academic webpages? Page titles and headings also play an important role for all content on our websites.
Readers rely on page titles and headings to navigate websites and understand what is relevant and valuable — they look to these important page elements to help define the topic, establish context and relevance, and make content meaningful.
There is a lot riding on page titles and headings to attract, inform and guide our web users. Yet, content creators often overlook these elements and treat them as supplemental rather than essential. If you want to step-up your web writing skills, learn to create effective page titles and headings. Everything else comes next.
So, what does it take to write quality titles and headings? While there are many things to consider, the following are three guidelines that will help you create titles and headings that rock: 1) describe, 2) contextualize and 3) simplify and clarify.
1. Describe the Topic
As introductory content, the single most important quality of a title or heading is that it accurately describes the topic.
Page titles answer, What is this page about?
For readers, a page title is the first clue about the purpose of a page. Readers rely on the title to answer, What is this page about? If it doesn't answer this question, it doesn't serve its primary purpose.
While some page titles are clearly non-descriptive, other ineffective page titles may not be as easy to spot.
Clearly, "Additional Links | University of Hartford" is not descriptive. Additional links about what?
But not all examples appear vague to readers and content creators alike. Naming your page "Student | Department of Philosophy | NYU" may appear straightforward and adequately descriptive, but is this page a student profile, a description of student life, or information for prospective students?
In contrast, "PhD Student Directory | Gerald R. Ford School of Public Policy" clearly describes the topic of the page. Readers know that the page will include a list of PhD students attending the Gerald R. Ford School of Public Policy.
Headings answer, What will I learn here?
Like page titles, headings are unsung heroes of readability and usability.
Once readers land on your webpage, they rely on headings to understand what they will learn on the page. Headings enable readers to scan the contents of a page to see what sub-topics it covers and whether it contains the information they're looking for.
Without a descriptive page title to define the purpose of the page and applicable headings to outline the contents of the page, you force readers to do extra work. They must click on the page link and read the entire page to learn if it's useful and valuable. If we want happy, loyal web users, we have to aim higher.
2. Contextualize for Your Audience
Just because a title or heading is descriptive doesn't mean it appears relevant to visitors. Being relevant means providing adequate context to answer the question, Is this content for me?
Page titles stand alone
To be effective in all contexts, page titles must make sense on their own. In the following example, "Application Form" may describe the purpose of the page, but it doesn't say who it's for. Is it an application for admissions? An administrative job? A faculty position? A work-study position?
The first page title doesn't help readers understand if the application is relevant to them. The second page title provides helpful context by including "Admissions."
Creating relevant titles means planning for context. In other words, consider how, when and where people will see your text.
It's easy to assume that a page title will be seen as you intend: on your webpage. With this assumption, you might rely on visual cues web visitors commonly use to contextualize the topic of the page, such as the navigation menu or a breadcrumb trail. But what if readers see your page title in unexpected places that don't include those contextual clues?
What if people are reading your page title in a list of search results or on Facebook or Twitter? Will readers still have adequate context to understand if your content is relevant? Let's look at a couple examples.
If I go to the SUNY Cortland website today and search for "courses," three of the first four results listed are "Courses – SUNY Cortland."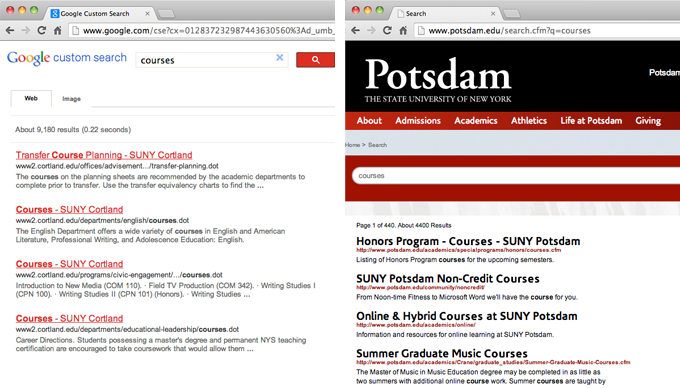 Because the page titles don't provide adequate context — and because the page titles are not unique — it's not immediately clear which page is relevant for me. I have to work to figure it out.
In comparison, if I go to the SUNY Potsdam website today and search for "courses," top search results include "Honors Program – Courses – SUNY Potsdam" and "SUNY Potsdam Non-Credit Courses."
The page titles for SUNY Potsdam don't just describe the topic of the page but also provide context to better help readers understand if it's relevant for them.
Do your headings make sense? Test them.
Context is also important for headings. While we can generally assume that headings will be seen within the context of the intended webpage, this context is still important for relating headings to each other, to the page title and to other on-page content.
A quick way to test the efficacy of your headings is to step away from your computer so that you can see the headings but not the smaller paragraphs of text. Now, by just reading the headings on the webpage, answer the following questions on behalf of your readers:
Do I understand what the webpage is about, or do I need to read more to understand what the headers mean or how the topics relate to me?
Do I understand all the topics covered on the webpage?
Do the headings clearly relate to each other?
If you answer "no," it's time to revise. Keep tweaking your headings until you can answer "yes" to all of the above questions. Happy users are worth it!
3. Clarify and Simplify
With all of this talk about descriptive and contextually relevant titles and headings, it's easy to lose track of the importance of brevity. To ensure titles and headings are readable and findable, clarify and simplify is also a requirement.
Clarify and simplify may seem at odds with describe and contextualize — and at times they are competing priorities — but more often than not, after you've written a descriptive and relevant title or heading, there is opportunity to revise and edit in order to simplify and enhance clarity.
Simple is easier to understand
Readers need to be able to quickly and easily understand the purpose and value of a webpage. This is an area where we can learn a lot from traditional publishing. Book publishers mastered clear and simple titles a long time ago.
Imagine going to a bookstore and scanning the book titles on the shelves for something about "web design" so you can talk more intelligently to your design and development friends. You don't have time to read every book title — you're scanning titles. If a title is not clear and simple, you're more likely to skip the book than pick it up to figure it out. The same is true on the web.
Now imagine you see a book title called "Learning Web Design." The book is covering the topic you're looking for, and because you're a novice, the simple word "learning" suggests it's relevant to you. This title is adequately descriptive, contextualized, clear and simple. Sweet!
My freshman creative writing professor told me I needed to write 100 draft pages to get five good pages of writing. Well, compared to that, sliming down a page title or heading is a piece of cake!
What About Findability and Search Engine Optimization (SEO)?
Don't worry SEO, we haven't forgotten about you. Each of these guidelines support findability and SEO. Your effort to make page titles clear and readable for your web users also benefits search engines.
In particular, descriptive page titles that include relevant and appropriate keywords help search engines guide relevant traffic to your site. Clear and simple titles that are void of needless words also improve search engine rankings.
However, there are a few other considerations to keep in mind to optimize your webpage titles for findability and search engines.
1. Be unique
We already saw the effects of duplicate page titles when searching for "courses" on SUNY Cortland's website. Web users and search engines need unique page titles to distinguish page content. It seems like a no-brainer, but it's one of the most common findability problems I encounter on higher ed websites.
2. Be consistent
Consistent and predictable page titles are key to findability, as well as usability. Predictability helps simplify meaning and enhance user comprehension to improve wayfinding — a super important requirement if you want people to find and discover your content.
3. Use appropriate keywords
To help people find what they're looking for, we need to use keywords that match their search terms. Appropriate keywords must be relevant and on-brand.
4. Limit character length
We talked about the need to clarify and simplify page titles in order to improve user comprehension. However, length is also an SEO requirement. Most search engines display a maximum of 65 characters (including spaces) of page titles in search results. Anything more will be cropped and unseen by readers.
For more on webpage titles and SEO, check out:
No One Said Simple Is Easy
Like all clear, succinct writing, page titles and headings take work. But if you're describing, contextualizing, clarifying and simplifying, you're set up for success.
Creating effective page titles and headings should be a priority for all content creators and editors. However, these content elements should not be planned for independently of your broader website information architecture and editorial style guide. A single webpage — including its page title and headers — contributes to a much larger website user experience.
What guidelines for page titles and headings do you follow? What challenges do you face crafting or maintaining these content elements?