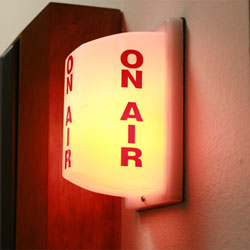 If there's one thing common to college campuses, it's events. We all have speakers, performances, panel discussions, cultural showcases, exhibits and other happenings scheduled weekly. We also have the events you can't predict, whether it's an unannounced visit by a local politician, a group discussion convened in reaction to a breaking news story or a spontaneous student gathering.
While there are lots of ways we can report on an event, how do we capture it in real-time? How do we convey our dynamic campus life via the web as it is happening?
And how do we do it when our budget is, er, nil?
Outfitting every major auditorium with live-streaming capability is a grand idea, though not very realistic. Heck, maybe we can't even afford a hand-held video camera. Or perhaps we don't have the time or budget to grab an Eye-Fi card. So, how can we create live content when all we have is just, say, a smartphone and a laptop? (Okay, that's sad. Let's give ourselves a webcam, too.)
No matter our tools or budget, I believe there are a few things that make real-time event coverage successful:
Make it participatory
Make it cross-platform
Promote it well
Be contextually consistent across channels
Archive your real-time content for future uses
With those guidelines in mind, here are some free or low-cost tools and techniques you can use to go live without going broke:
Cover It Live
Cover It Live, a favorite tool of mainstream media websites, offers you several options. You can use it to moderate a live chat (say, with a faculty expert), you can use it cull tweets from a particular hashtag or Twitter account (you can remove ones you don't want) or you can blend the two in a mix of tweets and comments. At Tufts, we did this both for the announcement of our new president-elect and the appearance of our male a cappella group on NBC's "The Sing-Off." You can embed Cover It Live on your blog or your website.
Twitter
At Tufts, we've been using our @TuftsLive Twitter account to live-tweet events once or twice a week during the academic year. We then use Cover It Live to archive the tweets on our events blog, with additional context about event speakers, sponsors, etc.
Another good use of Twitter is dissemination of photos or videos in real-time through services like TwitPic and TwitVid. One thing I do personally is publish photos via Posterous, which can automatically cross-post to Twitter, Facebook, my Posterous blog and/or my Flickr account, depending on your configuration.
Storify
Storify is a powerful curation tool that allows you to pull in multiple content types–including webpages, tweets, photos and videos, to name a few– to create a narrative. Storify has been used in breaking news situations as well as for event coverage in higher ed. Its advantage is that it allows you to stitch a story together in a drag-and-drop modality, pulling in content, crafting context and shaping the flow of the story as you go.
Tags
If you want to crowdsource the content being created by other attendees — and thus get the most from your use of Storify, Cover It Live or Twitter — you need to take the lead in establishing the tag for the event. Make it a tag that can be used as a hashtag in real-time as well as a tag for future media (blog posts, photos, videos, etc.). If you're able to coordinate with event organizers ahead of time, try to get the hashtag on flyers, calendar postings and most importantly announced at the start of the event.
Blogging
Live-blogging is tricky to do well. It requires being able to organize and synthesize the contents of a live event on the fly. (It's even tough to find good examples.) It may be easier to do with something straightforward and predictable in format such as a sporting event, rather than a panel discussion where tangents may make it tricky to follow along. That said, if you're one of those people who can share something meaningfully in long form and in real-time, go for it.
Live-streaming
I would never attempt to livestream an event with just a laptop and a webcam. There are too many people (on-stage and off), the space would be too large and the audio would be crap. The only scenario where I can see this working is if you have, say, a faculty expert who is answering questions about a developing news event. And even then, I suggest doing a dry run before plopping down in a professor's office with your laptop and a prayer. If it works, though, it can be a great way to lower the barriers between your broader audience and faculty expertise. And you can archive the video to post on YouTube for posterity or perhaps even share with local media. (And consider combining live video with other live elements, as the University of Michigan did for the finals of their solar car race.)
If you want more breakdown on livestreaming video, check out this handy breakdown of the available services by Seth Odell. Seth separately posted about Vokle, a live video talkshow service, while EdSocialMedia delved into Livestream last year. And before doing anything, check out these helpful tips from Patrick Powers.
Planning for Real-Time Content
When it comes to creating content in real-time, planning is essential. If you know about the event ahead of time, you can better coordinate with organizers, more widely promote your coverage to your audience (and perhaps solicit content from them, as well) and utilize a broader range of content types and delivery channels.
If the event is unexpected, then the planning comes in the groundwork you lay — testing technology, setting up accounts, thinking through how to wrangle multiple content elements toward a single goal. The other thing about real-time content is that, unless you makes plans to give it a home after the fact, it is ephemeral. Don't let your efforts slip into the digital ether the minute the event ends — pursue real-time content opportunities that tie into your existing content goals, and make plans for where this content will live after the fact.
How else can you capture a live experience on the web for little or no cost? What successes have you had?