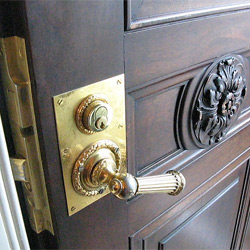 If there's one thing that the infamous XKCD university homepage comic reminded us, it's that we need to strike a better balance between tasks and messaging on our homepages. And if there's one thing that the commentary stemming from that comic reminded us, it's that our homepage is one of the most political entities we will ever manage, and the solutions don't come easy.
But if you think about, there really is no separate homepage strategy, is there? This is no Jedi mind trick—the homepage should simply be another reflection of your overall communications strategy. This is the Force from which your website's strength flows, homepage and all. And to that end, as more people come to our site from paths other than our front door, we need to treat every page on our site like a homepage.
How do we best defend a critical digital asset like our homepage against the slings and arrows of outrageous demands—links, stories, photos, you name it—from constituents across campus? As with anything, it starts and ends with developing (and supporting) a goal-oriented strategy that defines the purpose of the homepage, what efforts support that purpose, and how we measure the effectiveness of those efforts.
The crux of that strategy needs to be an understanding of your audience. Once you have that, you can build your homepage to support those users, including top tasks and targeted institutional messaging.
Let's explore some helpful approaches to creating a meaningful, successful homepage.
What Is The Purpose of Our Homepage?
In 2010, Gerry McGovern wrote a great article called "The decline of the homepage," citing statistics showing that users are heading directly to homepages less and less. "People don't vaguely browse on the Web," he wrote. "As Web usage matures, it becomes more specific."
This perspective was echoed in an August article on Nieman Lab, citing the growing propensity of website visitors to arrive "sideways," via search, social media, or "dark social." Speaking in the context of news, Atlantic Digital editor Bob Cohn told Nieman Lab, "The old mantra that every page needs to be a homepage has never been more true."
Indeed, that idea that your homepage is the most important page on your website is more myth than truth. So what's the role of the homepage, then? It's still our institutional front door. According to Cohn, in a piece he wrote for Folio earlier this year, it's a place to make your "ultimate brand statement":
The homepage is the single best way for editors to convey the sensibilities and values of their websites. Everything about the page – the design; the selection of stories and images; the treatment of features and widgets; the language and cadence of the headlines; the typeface; the frequency with which the page is updated; even the ads – is a statement about what matters to the publication.
Back in March, mStoner's Susan T. Evans echoed this in writing about the need to curate content on higher ed homepages in a way that serves multiple audiences while still targeting just one or two:
News you feature and events you highlight should be based on editorial decisions that are consistent with the messaging platform outlined in your communication strategy. When you choose well, the campus community, parents, legislators, and other ancillary audiences will also be influenced by this content. Your homepage can offer points of pride for many audiences without muddying the focus on prospectives and donors.
She added: "We want our .edu visitors to find what they are looking for but we also want to subtly get in their way with useful and compelling content that is outside the scope of what they came in to see."
A Useful Homepage
However, in his 2010 article, McGovern also made the case for transforming our homepages from "a giant billboard or megaphone" covered with "happy talk and smiling faces" and into something more useful.
Your customers don't want to get to your homepage. At best, the homepage is merely a series of signposts that will help them head in the right direction. Unfortunately, too many marketers and communicators are destroying whatever credibility their homepages have left with customers by filling them with useless graphics and meaningless words.
In the same vein, I appreciated this analogy shared during Confab in May:
User think of your home page as the hotel lobby. What they really want is to get to the bar or their room #confab12

— John Mohr (@johntmohr) May 14, 2012
This hammers home the point that the homepage should not be a place where you want people to linger. You want people to move along.
If a homepage sends people quickly to content, it's performing fabulously. Amen, @cperfetti #confab12

— Allison Creekmore (@aecreek) May 14, 2012
The challenge in addressing both McGovern's and Evans' points is in finding the right balance for our homepage—quickly getting people where they need to go while leaving them with a strong brand impression. Evans uses the phrase "subtly get in the way," but I prefer thinking of the challenge at hand as creating a cohesive, supportive user experience. Much as we think about branding as something that should be reflected in site functionality as much as centerpiece photography, we need to more seriously consider our user's journey. And that means thinking beyond the homepage.
A Whole-Site Approach to User Experience
If you're tackling a website redesign project, it may be a challenge to get stakeholders to think as critically about secondary- and tertiary-level landing pages as they do about the homepage. But as the above perspectives all assert in one way or another, if people aren't coming to our site some way other than the homepage, the homepage functions as a brand-supported gateway to get them to the information they seek.
To that end, the homepage shouldn't carry as heavy a burden as many campus constituents feel it should. It's not about placing all your content in one place so users can see it immediately, Rather, it's about creating a sensible site-wide experience that guides users to the exact information they are looking for through a powerful and consistent information scent. Even back in 2005, UIE's Jared Spool touched on this concept in discussing the most important function of a homepage. If you're shoveling "quick links" onto your homepage on demand, it likely means that the rest of your site is a disorganized heap, and that there is no scent to follow. Your homepage shouldn't suffer for the sins of the broader website.
In an excellent post from earlier this year, Northwestern University's Matt Klawitter called out higher ed websites for, in the quest to "be everything for everyone," overcomplicating themselves at the expense of both user experience and institutional goals. By taking a more strategic, research-driven approach to such projects, Klawitter found that the end product had fewer links and better placement for the links and navigation that remained.
A homepage link may feel like a shiny, easy solution to achieve "visibility," but true visibility is actually site-wide findability.
Klawitter also points out the importance of not letting tradition trump strategy. A unit's desire to retain a homepage link "because we've always had one" may actually be impeding that unit's (and the institution's) ultimate goals and communications priorities. The proper solution should be goal-driven and measurable—and it may not reside on the homepage entirely (or at all).
A homepage link may feel like a shiny, easy solution to achieve "visibility," but true visibility is actually site-wide findability. This means building meaningful conduits throughout your site that can take visitors wherever they decide to go—whether they start on your homepage or not. By taking a cue from Klawitter and measuring the effectiveness of those conduits, we may be able to relieve some of the expectations heaped on our homepages.
Managing a Strategic Homepage
As we say on Meet Content, don't get too hung up on the words and pixels—content strategy ultimately comes down to people. And homepages are particularly political territory. So how do we defend and execute our strategy?
Compile the stats
Get your stats for month-to-month over the past year to determine:
How content on your homepage performs over time—what works, what doesn't
Where people go after visiting your homepage
How people are visiting your site—who comes through the homepage first, versus who comes via search, social media, or directly to a lower-level page
In 2006, a UIE article offered a great approach to prioritizing design time for your website—examining your website's long tail. In the case of the UIE website, for instance, it was true then that while the homepage got more hits than any other page on the site in a given period of time, the homepage still garnered just 10 percent of overall pageviews. This means that site visitors were spending 90 percent of their time elsewhere—a statistic that should influence where we spend our time creating content and crafting user experience.
This six-year-old assessment is buoyed by Cohn's reportage that 90 percent of visits to The Atlantic's websites begin somewhere other than the homepage. How does your website measure up?
Define and share criteria
Create criteria explicitly defining what kind of content—news, events, links, photos, videos, etc.—you place on the homepage to support your overall communications strategy. What messages and goals are you trying to support? What other balances are you trying to strike—say, representation of various schools or initiatives? What content types best convey these intentions? (Ideally, this was also taken into account when you conceptualized and developed your homepage!) What is the schedule for homepage updates, and what is the rationale behind that?
The less of a mystery there is around the homepage, the less room there is for argument.
First, share these criteria with your leadership and get buy-in—you may need the support later. From there, be transparent among your fellow communicators about what those criteria are, how you arrived at them, and how you use them to guide decision-making. The less of a mystery there is around the homepage, the less room there is for argument. At the same time, assert that content may be changed at any moment at your discretion (e.g. breaking news, a major gift, a crisis).
Within these criteria, you can also reinforce investment in various content systems or processes. For example, if you are trying to encourage people on campus to use a central events calendar or adhere to a news tagging system, and those systems are also used to support homepage content, let people know that if they want to show up on the homepage, they need to use the designated systems in the designated way.
Clarify ownership and governance
Too often, our homepage becomes the object in a game of political tug-o-war. Or, as Lou Rosenfeld put it at Confab earlier this year:
"Home pages are battlegrounds for nincompoops with big egos." — @louisrosenfeld #confab12

— Angela Colter (@angelacolter) May 16, 2012
Earlier this year, University of Rhode Island manager of web communications Kerri Hicks made a smart argument for a homepage or website redesign to be governed by strong leader rather than a representative committee of potentially competing interests:
Your expert needs to know, believe, and evangelize the fact that no one ever wants to be on your web site. … Today, your visitors are seeking information, and want to find it in the fastest, most frictionless way possible. Your expert needs to know how to make this happen, while showcasing your school for the best possible recruitment, retention, yield, development, efficiency, and academic outcomes (listed in no particular order). … All too often, a committee is brought together in place of that expert, serving simply as a mechanism to distribute blame when people become unhappy.
Yielding control of your homepage to everybody results in it serving nobody. However, that does not preclude this leader—someone whose role is known to all relevant campus constituents and supported by senior leadership—from cultivating campus-wide relationships in order to draw information and ideas that may inform the homepage.
A Learning Process
As our understanding of both the web and our audience increases, so evolves our approach to the homepage. As always, some of the best opportunities to learn come from paying attention to our higher ed peers.
Just look at the new Notre Dame website. As the team explained in an interview on the mStoner blog, they deconstructed the concept of the homepage feature and instead distributed elements of the Notre Dame identity and story throughout the long-scrolling page. They drew inspiration from news sites like The Verge, which share a diverse range of content with multiple audiences on their homepage every day. And they developed content from a content-first, multi-device perspective, ensuring the integrity of the homepage experience remained intact no matter how the site visitor came to it.
How do you manage your homepage content? How do you prioritize content and manage stakeholder needs? Share your experiences in the comments.