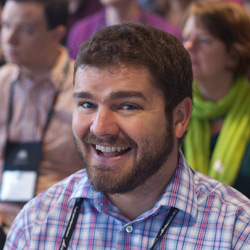 The dream of higher ed is alive in Portland. That's what we learned at the 2014 HighEdWeb conference, which made its first stop in the Pacific Northwest. As always, the conference was a great opportunity to learn, reflect, connect, and refresh our perspective for the challenges waiting back at home.
A theme that pervaded many of the sessions at HighEdWeb was the idea of being human. The work we do as web content professionals is not about pixels or paragraphs so much as it is about people. This means realizing the importance of building community and maintaining relationships, but it also means applying our innately human qualities of empathy, kindness, and reflection in our work.
Human League
What Does the Web Say?
Roosevelt University's Aaron Rester explored a type of web content that is tricky to do well—sound. More often than not, we consider sound on the web as an annoyance, or a poor replacement for video content. But Rester reminds us of strong nostalgic properties of audio, as employed on Notre Dame's alumni website, for example. Sound has limitations—audio files are not searchable or able to be hyperlinked, for instance—but some perceived "limitations," like a lack of visual distraction, can actually focus the user's attention like few other content types.
Caution: Human at Work
In the best-of-conference award-winning presentation, Ithaca College's Dave Cameron presented a "case study of himself" and how he as an "imperfect human" gets work done amid the shifting demands of a higher ed marketing communications office. He shared tips around managing email, running effective meetings, planning daily schedules, and being productive that allow him to do better work more efficiently.
Disruption Comes to the Advancement Office
In her session on digital fundraising on the social web, Cornell University's Ashley Budd talked about how she has introduced successful crowdfunding initiatives that may ruffle the feathers of fundraisers used to a more traditional approach.
Budd talked about the importance of context—labeling efforts as "beta" or "trial" and bundling them within the wave of activity that comes around a milestone like a sesquicentennial. She also illustrated the power of the personal social touch by sharing a case study of how years of failing to build a relationship with a donor prospect through traditional tactics came to an end thanks to a single tweet.
A User-Centric Approach to a Web Redesign
Nichole McGill at the University of Ottawa talked about how she laid the groundwork for a major web redesign. The process kicked off with a comprehensive web governance study that included working with an external partner to conduct stakeholder interviews, in addition to surveying 8,000 members of the campus community.
From this, McGill's team identified the top tasks that site users sought to perform and placed those tasks front and center on the uOttawa homepage and other key pages—like their new landing page for current students. Another primary focus of the redesign? Accessibility. Hard to get more human than that.
Get With the Program
mStoner's Doug Gapinski reminded us of the pressing need to pay due attention to some of the most popular and important pages on our websites: academic program pages. These pages should give prospective students the information they need—in the form of program requirements, news and testimonials, career outcomes, cost, program length, and more—to make a decision about how they will spend the next four years of their life. Information is power, after all, and we are doing both our students and ourselves a disservice by presenting program information poorly.
Reining in the Digital Brand
When your brand is all over the map, how can your institution move in a shared direction? The marketing team from Berklee College of Music explained their comprehensive approach to brand integration. The approach was based around two core principles: one, that the true owner of the brand is the audience, and two, that the best way to bring people on board with an initiative is to give them something in return.
By offering the carrot of a desirable "brand bar" website feature for adherence to Berklee College of Music brand guidelines and participation in the internal marketing community, the marketing team was able to entice people into both compliance and awareness. In addition, there was the appeal of cost savings through eliminating redundant branding and marketing expenditures.
Advocating for the Author
In consideration of a user we often forget, Penn State's Nikki Massaro Kaufman talked about improving AX, or "author experience," for our content management systems. She discussed how to support the author through training—specifically microtraining, which comes in more frequent but more digestible intervals and more informal office hours—engaging the motivated but uninformed author, understanding their experience by working in the CMS out of superuser mode, and finding ways to create the "desire paths" that users want to accomplish the things they need.
Evolution is Real
Just as we humans got to where we are today through a process of evolution, so go our websites. University of Florida Health's Jeff Stevens explored this idea in a visually rich presentation that examined the content strategy for the UFHealth website in the context of the various principles of evolution, as espoused by Charles Darwin and others. From the concept of koinophilia (seeking a mate that does not have unusual features, examined in the context of similar higher ed homepages with carousels and girls under trees) to adaptive radiation to the role of the "hopeful monster," Stevens helped us realize how our websites' evolutions echo our own very human process of growth and change.
The Voodoo That You Do
As always, HighEdWeb crammed a ton of knowledge into too short of a time. And our favorite takeaway for how to improve our web content? Put a bird on it, of course.
What were your top content takeaways from HighEdWeb 2014?