Two weeks ago at HighEdWeb, I gave a presentation entitled Carrying the Banner: Reinventing News on Your University Website. This session won the Red Stapler for Best of Track (Content), as well as Best of Conference honors. Thanks, HighEdWeb, for the opportunity to present and the tremendous honor! You can watch the full session online, thanks to Higher Ed Live, or read a recap, thanks to LINK. What follows is an elaboration on some of the key points I conveyed in the session.
Why News Needs to Change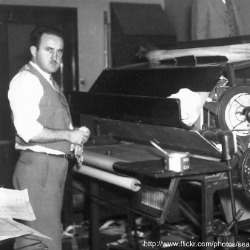 When I worked in the Boston Globe's online newsroom seven years ago, the print-web divide was stark. The editors were scared by the very idea of letting reporters blog. (Imagine if Twitter had been around in 2004—they would have had palpitations.) The web folks and the reporters weren't structured to work together, and it took great effort to achieve the collaborations that resulted in compelling online stoytelling and more than just repackaged versions of newspaper content on the web. Multimedia storytelling was present, but rare and cumbersome.
Does this sound like your news office today?
Now when I look at the Globe online, I can't throw a rock without hitting a reporter who has a blog, a Twitter account or both. (Even the editor is on Twitter.) Heck, thanks to the Globe Lab, they've even erected a giant monitor in the heart of the newsroom, showing a live feed of reporter tweets. Video is just another way to tell a story. During big events, they've piped users tweets onto the homepage.
Everything about media is changing — and that includes us, whether we realize it or not.
Everything about media is changing — and that includes us, whether we realize it or not. A news experience is a news experience, and our users don't cut us slack because we're in higher ed. We have work to do and expectations to meet. Mainstream media — who often work under comparable budget constraints to us — have a lot to teach us, if we're willing to learn.
For some of us, our news offices are structured the same way they were five, ten or even more years ago, with the web having been wedged in once it emerged on the scene. But even though we've tacked on the web as a distribution channel for our news, have we changed our editorial workflow and philosophy around news to reflect that disruption? In the absence of a strategy, a routine can appear like one. But at some point, the wear will start to show. We need to be ahead of the game before that moment comes.
Why News Matters
With everything we have to do, you may be wondering why news matters so much. Well, what we're really talking about are stories. Stories matter, and news is a vessel for story. In my HighEdWeb Arkansas keynote, I referenced Dr. Susan Weinschenk's assertion that stories are the lens through which we see the world. In making sense of the world via narrative, we inevitably evoke and ascribe emotions, which are the most compelling drivers of action. So, if we want our audiences to be solidly informed, or ideally moved to action, we want them to feel something. As James Madison University found out:
…releases with the el­ements of a good news story—a little drama, a person fighting for what is right, a villain—have scores [in the school's "shareability index"] four to five times higher than those about the success of a program, he says. As a result, James Madison has started to tell more human-oriented stories.
What more, these stories are ours to tell. A few weeks ago, four web communicators from around higher ed weighed in here on the future of public relations web content, and there was general consensus that we need to start finding ways to own our stories. We don't need to rely on the media. They should be an amplifier, but not our main conduit for communications. As Kyle Christie of King's College so eloquently put it:
Universities have an opportunity to leapfrog the mainstream media and explain our research, teaching and wider contributions to society in forms beyond the text-based press release. Whether it's video, audio, slideshows or hosting debates, events and using social media to engage with different stakeholders, it seems like an inevitable direction. We have websites, and access to the tools needed to reach the public.
We need to be restless in our pursuit of effective storytelling, using all the tools at our disposal.
We need to be restless in our pursuit of effective storytelling, using all the tools at our disposal. We can't stop looking for fresh perspectives, like BU's "One Class, One Day" series. We need to try new things, like multimedia storytelling with audio slideshows via Soundslides or live-tweeting campus events. We need to ensure relevance by publishing with a real-time mindset, applying context to current events and capitalizing on news items with high but short term value. We need to put our ear to the tracks and get more story ideas from social media monitoring.
None of this is back-breaking or budget-busting. It's within reach. And it's important that we extend a hand in that direction in order to reach clear communication.
Making News Successful
In my session, I discussed the Associated Press' 2008 study, "A New Model for New News: Studying the Deep Structure of Young-Adult News Consumption," [PDF] commissioned to address the realization that they needed to adapt to keep up with a rapidly evolving online news landscape. The report arrived at the following mission: "Create content that will satisfy a full range of consumers' news needs and then build the links that will connect people to the relevant news they seek." To me, this indicates a need to not only create great content, but to create the connections to that content. We must create content that is not only shareable, but shareworthy.
In writing about this study, blogger Valeria Maltoni observed that "people and their social graphs are the last mile," the most difficult distance to bridge in making sure our content is seen (and shared) by our desired audiences.
Shareworthiness, again, comes down to emotion. In writing about a Yahoo Labs study of what news gets "liked" on Facebook, Nieman Labs' Megan Garber wrote:
The best stories — the most inherently share-worthy stories — are the ones for which it would be almost weird to email them to someone — or tweet them to someone, or whatever — without an introductory "WOW" or "WHOA" or "WTF."
The last mile, it is clear, is where that emotional connection between content and audience is formed.
A 'Content-First' Approach to News
Since returning from HighEdWeb, I keep coming back to what Doug Beck and Roger Wolf of the University of Central Florida discussed in their session on mobile web content—making your content computer-readable and ready to be used as a "legendary" data source. At its core, our content is just data to which we and our audiences accord varying degrees of significance. While that may seem like I am devaluing content, I think that this perspective helps us strip away a lot of the baggage content is often saddled with and think of it in a more fundamental way.
News content is our ambassador. A news story may not be our most visited page, but it may be our most well-traveled. We need to structure it in a way that, as Razorfish's Rachel Lovinger details in her report "Nimble," enables it to "travel freely around the web, retain context and meaning and create new products." Good content is not enough; we need to give it the ability to be shared, embedded, read by machines, fed and adapted.
That said, our workflows should not be platform-centric — "web-first" or "print-first." Blogger Max Cutler wrote in Sept. 2010, "Why are we letting the delivery platform hold our content hostage? News organizations should instead be 'content-first,' and use tools that promote content above all else."
Taking a content-first approach to news will also enable us to more effectively address the challenges still to come, because the web is just the beginning.
Thus, our content management choices should support the type of content we're publishing. News is a unique content type and should be supported as such in order to be published effectively. For example, in her HighEdWeb session, Vanderbilt's Lacy Tite emphasized the value of WordPress as a tool for creating news sites.
Taking a content-first approach to news will also enable us to more effectively address the challenges still to come, because the web is just the beginning. Our considerations extend far beyond websites. Mobile, tablet, Instapaper, Kindles, even Google TV… new publishing platforms and devices are emerging at a rapid pace, and we need to keep up, because media consumers are. If our thinking is platform-centric, then we'll constantly be tripping over ourselves repurposing our content for the newest, shiniest platform on the block.
A content-first approach does not just apply when considering the technical infrastructure; it applies to the human infrastructure, as well. Editorial meetings need to provide touchpoints for communicators university-wide. Information sharing can enhance and improve coverage at all levels. Editorial planning can ensure brand-balanced coverage over time. We don't have the time or resources to waste on competing with one another or duplicating efforts. We need to work together.
What's Your (News) Story?
How does news work at your institution? Where are the opportunities to grow, and what are the challenges to doing so?