Producing a video is a lot of work—concept, storyboarding, scripting, location and talent scouting, shooting, editing and post-production. At the end of all that, you have a shiny new video, likely destined for YouTube. Upload, share, and wait for the hits and plaudits to roll in!
Or not. Much like launching a website, some of the most important work comes after videos are produced. Yes, YouTube is the second most popular search engine after Google, but realizing that benefit takes work. We have to pay as much attention to the findability of our videos as we do to the findability of our websites.
Beyond SEO (search engine optimization) considerations, our up-front work inputting settings and metadata also establishes a more productive context in which people view our videos.
Sure, we share and promote our video content on the web and via social media. But our content has a whole life that we don't control. All we can do is set it up for success. So, don't let that awesome faculty interview or student performance go undiscovered. Give it extra life by taking a little extra time up front.
One for the Money, Two for the Show
1. Basic Info: Title, Description and Tags
Title
Your title does a lot of work. Whether you're posting a video to Facebook or embedding it on your homepage, it will likely be the first thing that somebody sees. For that reason, it's important that your title accurately and compellingly describe the content of your video. In addition, the keywords for your video should precede your institutional branding. (More about keywords in a moment.)
Description
The first one or two sentences of your video's description are the most important. You want to lead with a relevant or intriguing hook. You also want to include a specific call to action—it could be an event signup form, a program page, a related news story, you name it. Be sure to lead with the http:// to prod YouTube to hyperlink your URL. But don't add any unnecessary or generic links. (And you're going to want to track who followed through on that call to action, so employ bit.ly and/or Google Analytics as appropriate.)
(The description area is also a good area to place any key credits, e.g. a music credit or the original source of the video.)
Tags
Your description should also echo the keywords used in your title and the tags section. These keywords should be a mix of general search terms (e.g. "a cappella" university students) and branded terms (e.g. "Meet Content A Cappella All Stars"—it could happen, right?). You also want to consider any taxonomy you are employing beyond YouTube (e.g. your news site, blogs, webpage metadata) and align your video content keywords with those terms. Keyword order is also important—list keywords in the same order within all three fields. Need help with keywords? Try YouTube's keyword tool.
Sharing Options and Categorization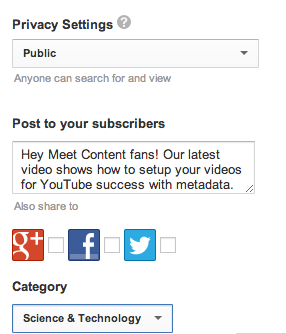 YouTube also lets you notify subscribers and enable default sharing to Google+, Facebook and/or Twitter. If you've been mindfully building up your YouTube subscriber base via calls to action, a specific message to those subscribers could be useful. But as always, be careful auto-sharing content to social networks without customizing your message.
When selecting a category, you may be inclined to default to "Education." But think closely about your content. If it's a panel of political science professors discussing a Supreme Court ruling or upcoming election, "News and Politics" may be a more suitable category.
2. Advanced Settings
It can be tempting to let the default settings suffice, but think through the implications of these options:
If you're allowing comments (and votes on comments, and video responses), be sure you have a plan in place for monitoring and moderating those comments, ratings and responses
In all likelihood, you'll default to the standard YouTube license. But if this is educational content (e.g. course lecture), you are posting content that you are encouraging people to remix, or your school is so philosophically inclined, you may enable the Creative Commons license. Just be sure you are aware of what that entails
If you are posting clips of TV commercials or other broadcast programming to YouTube, pay attention to the options under Caption Certification
Always, always, always allow embedding. If you uncheck this feature, it's like tying a marathoner's feet together before he crosses the starting line
Location and date are helpful details to include for both users and your own reference
If none of the default stills are suitable, upload a custom thumbnail. When doing so, consider your own institutional guidelines around imagery.
3. Sharing Options
Once you've got your video tagged and configured to the gills, you still have a few more tricks up your sleeve.
You can create a hyperlink to your video that begins at a certain time marker. This can be handy for linking to specific parts of a video within a larger clip.
When grabbing your embed code, think through whether or not you want to share a whole playlist (as YouTube encourages you to do by default) or just the standalone video.
If you're concerned about what kind of content might show up in the suggested videos that pop up after your video is done playing, uncheck the "Show suggested videos when the video finishes" box.
YouTube is swell for letting you customize your embed code dimensions, but it's always handy to know the dimensions of where you're embedding it. Homepage carousel? Program page main well? Blog post? For this and many other reasons, keep a list of all your key image and well dimensions for internal reference.
4. Other Content Considerations
Many others have waxed more eloquently about the importance of captioning your videos for accessibility. But consider the secondary benefits. All of that transcript text is searchable, so you may consider keyword integration into your scripts, as well. Also, YouTube's captioning functionality makes it incredibly easy to add transcripts to your video. Train an intern and let the good times roll.
As we know, there are lots of people who play a role in the life of any video—producer(s) who shoot and edit; social media managers who decide when, where and how to share it; even content strategists who help identify keywords or work to integrate relevant video content across a website. With all of these people involved, it is critical to have the proper workflow in place so that video content doesn't get uploaded and promoted before the proper metadata has been applied. Everyone involved should know their role as well as understanding the roles played by others.
You might also have a staff member who runs your digital asset management system. That person should be helping ensure there is proper alignment and understand of how video content is organized internally and keyworded externally. The nature of that alignment and organization may vary from institution to institution.
Three to Get Ready, and Four to Go
Want to dig deeper? Some helpful resources (from which many of the above tips were pulled) include the YouTube Creator Playbook and YouTube's help section, as well as the online video blog and resource ReelSEO.
This blog post by Kissmetrics on YouTube channel optimization and these YouTube tips by Higher Ed Live's Seth Odell should also give you some helpful guidance.
What metadata and configuration best practices have you uncovered for getting the most oomph out of your video content?