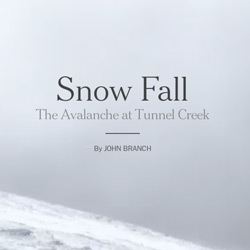 On Dec. 20, The New York Times wowed readers and industry peers alike with the publication of an interactive feature called "Snow Fall," which told the story of a fatal avalanche in Washington's Cascade Mountains this past February. It was not your ordinary multimedia feature. It brought words, pictures, video and interactive graphics together in a whole new way that had many hailing the project as a harbinger of the future of journalism.
That challenge may sound familiar. Increasingly, we in higher ed are finding ourselves needing to figure out how to wrangle multiple content elements—say, a video, a story, and a photo gallery—into a cohesive presentation.
In the six days following its launch, "Snow Fall" received more than 3.5 million pageviews and 2.9 million visitors—nearly a third of whom were new visitors to nytimes.com, according to a New York Times memo.
What made "Snow Fall" both so successful and so widely lauded? The feature marked a big step forward in the evolution of online storytelling. From the earliest stages of developing "Snow Fall," writers, researchers, designers, developers and multimedia experts all worked together to craft a compelling narrative wreathed in a natural user experience.
So, another day, another online journalism innovation. What does it mean for us and our higher ed newsrooms? Our resources pale in comparison to the Times'—after all, "Snow Fall" took six months and nearly a dozen staffers to bring to life. What does this latest notch in the Gray Lady's belt mean for higher ed?
As it turns out, it means a lot.
Go With the Flow
One of the great accomplishments of "Snow Fall" is how it made its multimedia elements not feel tacked on or awkwardly lodged into sidebars, but rather part of a natural, contiguous reading experience. The New York Times is not the first online news organization to attempt this (see ESPN's E-Ticket series for some great examples).
Sometimes, effective storytelling simply comes down to common sense and resourcefulness.
NYTimes.com graphics director Steve Duenes told Poynter that the goal of the feature was "so it didn't feel like you were taking a detour, but the multimedia was part of the one narrative flow." As you scroll through the story, which The Atlantic Wire rightly calls an "experience-based feature," the placement of various elements is contextual, the transitions between them smooth, and the structure compelling and sensible.
Some of the elements used to achieve this aren't so much technologically sophisticated as they just make sense, like short "bio cards" that appear contextually as a new character is introduced, which readers can click to learn more about that person's background.. Come to think of it, our stories are also replete with "characters"—faculty, students, prominent alumni. Perhaps that faculty expert or alumni database could be put to work in a new and enlightening way.
Sometimes, effective storytelling simply comes down to common sense and resourcefulness.
A New Way of Working Together
Beyond the shiny appearance of "Snow Fall," the heart of the effort was storytelling. As reporter John Branch put it, "when I returned with their stories, and we saw how their various perspectives of the same avalanche wove together, we invited the smart people in our interactive and graphics departments to help with the telling."
It was this collaboration—which was baked into the project from the very get-go, even as Branch was in the midst of reporting, drafting and sourcing the story—which brought "Snow Fall" to life. (As we know, collaboration is key to content strategy success in higher ed.) And it wasn't about throwing tons of media at a story—rather, just the right media, in the proper amounts and balance.
["Snow Fall"] was an editing project that required us to weave things together so that text, video, photography and graphics could all be consumed in a way that was similar to reading—a different kind of reading. – Steve Duenes, The New York Times
"The larger project wasn't a typical design effort," Duenes told Source. "It was an editing project that required us to weave things together so that text, video, photography and graphics could all be consumed in a way that was similar to reading—a different kind of reading."
As is probably evident, "Snow Fall" was built outside of the Times' content management system. "Breaking out of that we are able to do a lot more of what you see in terms of the art direction, typograpy and the lay-out," deputy director of digital design Andrew Kueneman told The Atlantic Wire. "We don't have the luxury of doing this type of design typically on the web. Now we just have more options and more tools."
In higher ed, we also don't have the luxury of seeing stories like "Snow Fall" everyday. The Atlantic's Derek Thompson makes the good point that features such as this, due to the sheer number of resources they require in order to come to life, will not become everyday occurrences. As we know, a story is best told in the medium most befitting it. Not every story needs to be blown out six ways to Sunday. "Text isn't broken," Thompson reminds us, and nor is the single photograph, or the 90-second video, or even the infographic.
But sometimes, as in the case of the Tunnel Creek avalanche, the story begs for more.
Takeaways for Higher Ed
In higher ed, we've got stories to tell, and the web offers a range of creative ways in which to tell them. There is a lot that the world of online journalism can teach us in this regard. So what can we learn from an endeavor as wide in scope as "Snow Fall"?
1. Don't Segregate Multimedia
As the creators of "Snow Fall" admit, this feature would not have been possible to execute within the nytimes.com CMS. That gave them the freedom to create a unique, contextual storytelling experience.
An article template on a CMS typically has a slot, or multiple slots, in which you can plop a photo, a video, or another multimedia element.
The challenge that "Snow Fall" presents to us is to find a way to more smartly integrate and highlight multimedia content—not as an element shunted into a slot in a template, but an element that can succeed and enlighten in narrative context. This goes beyond technology in thinking through how different elements comprising a news story—text, video, imagery, graphics—complement one another and support the narrative.
Even beyond sophisticated CMS evolution, we can find ways to more smartly introduce value to content contextually within our stories, whether it's a hyperlink, a photo with a caption, a video that launched in a lightbox, a blockquote, or a callout. Remember: you tell the story, not your CMS and not your templates.
Some good examples of this already being done come from the alumni magazine world, specifically Boston University's "Bostonia" and the University of Missouri's "Illumination." (Thanks to Cameron Pegg of Griffith University in Australia, who referenced these examples in his Prezi about alumni magazines on the web.)
2. Take a Holistic Approach to Storytelling
We talk about this a lot in terms of web development, but we would be well served by applying the same approach to the way we tell stories. As Poynter noted, "To tell a story seamlessly with text and multimedia, those elements have to actually fit into the same narrative flow. That means lots of coordination, rather than just dumping a finished article on the graphics desk."
"Snow Fall" only succeeded because there was a blended team that worked together to tell the story in the most befitting fashion.
"Snow Fall" only succeeded because there was a blended team that worked together to tell the story in the most befitting fashion. That required sharing draft versions of stories with designers and videographers, having multimedia producers and developers there during story brainstorming discussions, and ultimately realizing that the story's success belonged to all of them equally. Developers were not less important than writers, or more important than videographers, and so on.
In higher ed, we have these resources. We have designers, developers, writers, photographers and videographers. The challenge, as always, is to find and foster opportunities for these people to work together and recognize the value that each brings to the table. We're not always used to doing this. But to create compelling online storytelling experiences—heck, even to improve our events calendar interface or design a better email newsletter—we have to do it more, and better.
3. Don't Underestimate Infographics
I've said it before and I'll say it again. There is tremendous untapped potential for infographics in higher ed, when done appropriately. Many of the stunning visual features in "Snow Fall" are, essentially, infographics. Granted, newspapers have been doing infographics well and frequently for decades—this is simply an evolution in execution.
But most higher ed institutions have graphic designers at their disposal. And if we look around, we'll see that we are sitting on a gold mine of data. Bringing these two together in our stories can yield powerful and engaging content.
4. Let the Story Lead the Way
"Snow Fall" became "Snow Fall" because the richness of the story—the science behind avalanches, the details of what happened at Tunnel Creek, the heart-wrenching stories of loss and terror from those affected—demanded it. Other stories might demand significantly less.
We should beware getting into a rut with how we approach stories. By giving a story the treatment it deserves, we will better serve both our audiences and our mission. We will also create opportunities to use editorial resources more intelligently, whether it means not throwing the kitchen sink at a story that doesn't warrant it or going all out to give a compelling story its due. That will also help us as creative professionals, whether it means presenting a challenge or giving us a break.
Your Take
What do you think? Should higher ed pursue storytelling at the level of "Snow Fall"? When might that be called for? How can we best bring our resources to tackle such a project?