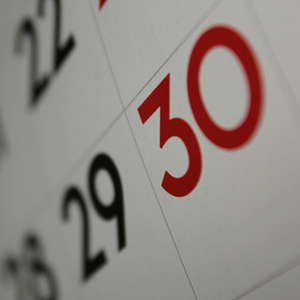 With social media, it's easy to rely on one of my favorite "anti-strategies" – serendipity. Why not, right? People tweet awesome things every day about my school that I can just retweet. There's always a new article or an interesting video to post on Facebook. The hits just keep on coming. We'll be fine. You can't plan social media!
Until you have an episode of what I call Blank Page Panic. The symptoms of Blank Page Panic are clammy hands, dry mouth and partial paralysis when asked "What's on your mind?" or "What's happening?" In other words, some days, you're not going to have a good idea of what to tweet or post on Facebook. The retweet gods are not shining down on you, yet you feel the urge, nay, pressure to say something. Anything!
(Please, don't just say anything.)
That pressure is the tacit realization that, holy crap, you're a publisher, and you've built up an expectation of publication, and by gum, you better stick to it.
The real problem is probably that you are tweeting or Facebooking without keeping your organizational goals or audience needs in mind.
But Blank Page Panic, believe it or not, is just a symptom. The real problem is probably that you are tweeting or Facebooking without keeping your organizational goals or audience needs in mind. Without a proper framework in place, you risk posting content that is redundant, inconsistent and/or irrelevant. That's no good.
So, how do we fix it? Well, we just realized that we're social media publishers, right? So let's look at other publications. Chances are (hopefully), your alumni magazine or news office or other more traditional publication group on campus has some sort of editorial calendar. But while the gist of an editorial calendar is to know what you're posting on Wednesday and what you're posting on Thursday, there's more to it than that. And the same principles apply to establishing a content calendar for your social media channels.
Making It Happen
Here's what I do. In a spreadsheet, I have separate tabs for Twitter and Facebook. At the top of each tab, I have four sets of reminders to keep my posting on track:
Content buckets: What types of content do I want to be posting? News links, blog links, photos, videos, queries, event links, Follow Fridays, etc.
Goal: For each channel, what is my goal? What am I ultimately trying to accomplish by tweeting, Facebooking, etc.?
Audience(s): Who am I talking to? Mostly students? Alumni and parents? All of the above?
Brand messages: What messages should I keep in mind when posting? How does this channel support and convey our brand?
Then, there's the calendar itself. (To give credit where credit is due, I was heavily inspired by a recent Content Marketing Institute post by Debbie Williams. She gives some valuable extra context about goals, tone and measurement.)
For Twitter, I use something like this to accommodate multiple tweets per day:
Twitter Editorial Calendar


| Posting date | Day | Tweet | Tweet | Tweet |
| --- | --- | --- | --- | --- |
| Jan 31, 2011 | Monday | Event: Symphony Orchestra | Query: What's your favorite way to enjoy the snow? | Blog: Study Abroad Dispatches |
This, of course, is not all I will be tweeting. A large part (part, not whole) of Twitter is indeed serendipity and randomness, and you can't schedule that. And that's on top of the usual run of late-breaking news and announcements that you don't see coming.
For Facebook, where I typically don't post more than once a day, the spreadsheet tab looks like this:
Facebook Editorial Calendar


| Posting date | Day | Content bucket | Message | Link |
| --- | --- | --- | --- | --- |
| Jan 31, 2011 | Monday | Query | What's your favorite way to enjoy the snow? | N/A |
| Feb 1, 2011 | Tuesday | Video | How do you make the most popular cafe drink on campus? Find out in our latest video blog post. | http://… |
If you share management of your social media channel with another individual or department, you may want to add in a column assigning specific days or posts to the appropriate individuals.
Once you plan out your posts, you can automate some of the work by using Hootsuite, CoTweet, Twaitter or another social media service that allows for scheduled posting. (Keep time zones and social media peak usage times in mind, as needed)
I also have "Twitter Archive" and "Facebook Archive" tabs where I copy and paste the rows from past days so I have my own archive of planned content postings. (If you're really ambitious, you could paste in your retweets and the like, but let's be reasonable here.) I also have some extra tabs where I make stash ideas for future posts.
Want another approach? Eric Norman from Sametz Blackstone shares a posting matrix that plots post topics (Events, Research, Application Process) on one axis and various methods (Questions, Updates, Hype, Benefit — sort of like the aforementioned Content Buckets, but more strategic) on the other axis. You could easily weave some date and time structure into that.
Where's the Beef?
So, now you have a content calendar framework, but are you still wondering where you're going to get the actual content? Here are a few time-bound freebies you can slot in right away.
Major holidays and events: Christmas? Veterans Day? Political election? Super Bowl? Chances are, your school has some kind of content (archival, past news coverage, a relevant program) you can post in connection to these dates on the calendar. No content? Create some! Ask your audience to respond to a question or share their own links, photos, etc.
Deadlines and other campus-specific dates: Application deadlines are the obvious ones (and applicants always want to be reminded of those dates), but what about reunion deadlines? Any contests on campus with submission deadlines? Don't forget midterms, matriculation, commencement, and other events that come every year like clockwork — including school-specific anniversaries and holidays (e.g. Founders Day).
News: What publication schedule do your online publications have? Get a copy of their editorial calendar, or failing that, subscribe to their RSS feeds so you'll know immediately when fresh content comes out of the oven.
Sports: When are the big matchups? When do playoffs start? Get the schedule from your SID's office, and if you're not in the loop with campus athletics, ask when the biggest games are.
How do you schedule and plan out your social media posts?
Photo by dafnecholet / Flickr Creative Commons