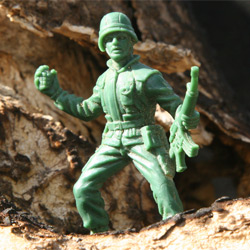 Yesterday, we began discussing how our content strategy efforts can be made more effective by smartly applying student workers to the cause. As Texas A&M's Amy Grace Wells explained, the challenge is in getting the students to see past individual assignments and embrace the larger strategy at work. With the right training, context and support in place, Wells has made it happen.
Today, we bring you the student perspective. Laura Lorenz is a senior at James Madison University in Harrisonburg, Va., majoring in biotechnology and minoring in technical and scientific communication. As her institution prepares to migrate to a new, third-party content management system, Lorenz says content strategy has become an area of focus—and a great opportunity for her to broaden her communications knowledge.
A New Frontier
How did you come to do content strategy work as an intern?

I was looking for a job that would allow me to get some practice in technical writing. I knew nothing about content strategy beyond my own intuition and general user awareness of web conventions; however, I still managed to impress those hiring me well enough that I got the job. This was a new position for this department, as well as a new focus for our school in general, so it was like working on the frontier.
What content strategy tasks do you typically handle?

My department works with Student Affairs departments, and we currently operate on a project basis where departments ask us to help them with content strategy. We go through a (more or less) defined process with them each individually:
Meeting with the stakeholders
Auditing their content
Developing a recommendations document with suggested changes and plans for long-term content maintenance and governance
Validating those recommendations through meetings with the stakeholders
Assisting in editing and the actual migration of content into our school's new CMS
I am directly involved in every step, and helped to develop the process when I was hired. However, each department is different, so the order is rarely as clean as I have presented it here. We have had one project where the department had no website or content at all and we were able to strategize from the beginning, but most have been assessments of published websites. No websites we have worked with have gone through migration yet (the school is prioritizing departments over the next 12-18 months for migration) so we may develop our workflow more.
Learning Opportunities
What content strategy training have you received? How much has been self-directed versus what your supervisor offered?
I am working on a minor in Technical and Scientific Communication, so I had an above-average awareness of aspects of web writing such as audience and purpose, but no formal content strategy training.
Upon being hired I immediately looked for books, blogs, and tutorials about the field. I followed blogs involved in content strategy, web development, or CMS such as Meet Content, A List Apart, Six Revisions, Newfangled, whatever I could find. I read Kristina Halvorson's book "Content Strategy for the Web," Steve Krug's "Don't Make Me Think," and some others I can't put a name or face to. I attended one of the free Meet Content webinars and read recaps from big conferences like Confab. All of this was self-directed and directly influenced our development process.
My supervisors are not specifically content specialists; they're IT/web dev guys. They have an understanding of the field, but I was able to delve into it intentionally to look for best practices, explanations of the jargon, and the questions still raised by field experts. I just recently learned there is at least one professional content strategist on campus who is working at the top level doing customization of our third-party CMS and developing training materials.
Takeaways
What do you like about content strategy? What do you find particularly challenging?

I like content strategy because I can see its immense importance in the web rhetoric of businesses, departments in higher ed, and personal websites. A business' or organization's entire ethos can be smashed by a poorly designed website, and its message can be muddled in failed information architecture or unmindful writing.
A business' or organization's entire ethos can be smashed by a poorly designed website, and its message can be muddled in failed information architecture or unmindful writing.
What I find challenging about content strategy is twofold: the field is relatively new and, to a beginner's eyes, very disorganized. More time is spent justifying content strategy than giving practical advice or describing best practices. This made it very difficult to develop a workflow that my office could reliably use to handle all our projects. My frustration with this may stem from the fact that strategy, like any type of design, is governed more by guidelines than rules and is entirely situational. The scientist in me hates this!
How has your content strategy experience influenced your coursework and your thoughts about what you'd like to do as a career when you graduate?
Working in content strategy has definitely influenced my educational career. I'm currently taking a minor elective in Document Design, because I realized I'd start needing to generate deliverables for our clients and that professionalism and clarity of design was going to be important. I plan to write a research paper for another minor class on content strategy, both to develop my own skills and potentially organize what I've learned from the widely spread sources I've come across through this journey.
Though my current professional plans are in science, I've toyed with the idea of doing freelance content strategy work to put my skills to use in the future. Since I am graduating in May, I am in a state of major transition, so anything could really happen!
Read part one—the staff perspective.
Article photo by puuikibeach / Flickr Creative Commons