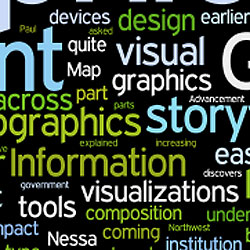 If you follow the web marketing world, you've likely seen an increasing number of infographics linked around. They've become a very hip content type: vertical images jam-packed with iconography and statistics explaining anything from the growth of mobile to storytelling to, well, infographics. Forget viral videos — we need a viral infographic!
Closely tied to the rise of infographics is the prevalence of data visualization, as we become more adept at shaping raw data into more easily understood visual stories. Right now, visual is big.
Back in March, Karine Joly blogged about infographics and asked why we weren't seeing more of them in higher ed. "Knowledge, expertise, research data and study results are aplenty in colleges and universities," she wrote. "While graphics skills might not be as widespread, they can be identified inside or outside the institution as well."
The good news is, not only are there plenty of opportunities and reasons to add infographics and other visualizations into your content repertoire, but they may be easier to produce than you think.
The Power of Visual Information
"There's something almost quite magical about visual information," said writer and designer David McCandless in a 2010 TED talk. "If you're navigating a dense informational jungle, coming across a beautiful graphic or a lovely data visualization is a relief. It's like coming across a clearing in the jungle."
Quality design can make information more meaningful by helping people understand it more easily, more quickly and perhaps more deeply. If you think about it, infographics are a kind of markup language for content.
Great design has the ability to make good content great, bad content mediocre and great content amazing
– Ian Alexander, Eat Media
"Great design has the ability to make good content great, bad content mediocre and great content amazing," said Eat Media principal Ian Alexander in his presentation at Confab earlier this month. "Infographics are a particularly great example of this."
Infographics are great tools for storytelling, as storytelling advocate Lou Hoffman illustrated in this post last June about a popular vuvuzela infographic. After winning Google's $5000 challenge to create a visualization of how the government spends our tax dollars, Anil Kandangath explained his approach to Nieman Lab by saying, "People remember stories." Nieman Lab's Megan Garber elaborated:
They may not recall individual facts; but when you can craft those facts together in a compelling arc, those facts become part of something more than the sum of their parts: a memorable tale. Even when it's not rendered in text alone.
Creating Effective Visualizations
Not everyone is a fan of visualizations. Back in April, Andy Shaindlin, Associate VP for Advancement at Carnegie Mellon University, tweeted, "Everyone loves infographics, but [the] majority are a product of over-caffeinated graphic designers — not sources of insight." He has a point. Some of them tend to border on garish. In addition, he added, "the majority seem like random collection of data — not focused enough for me."
Andrew Gossen responded: "That sounds like a problem with execution, not form."
I think Gossen is spot on. As with any content type, infographics should not be pursued for the sake of novelty. Always consider the user — is this a way to better convey a complex message? Does this help us understand numbers, trends or relationships more effectively?
A good infographic makes patterns arise, discovers trends, condenses enormous amounts of information in a very small space.– Alberto Cairo
"A good infographic makes patterns arise, discovers trends, condenses enormous amounts of information in a very small space," journalist Alberto Cairo told the Online Journalism Review in 2007. "Infographics, like any other form of journalism storytelling rely on solid, accurate content… If your content is weak, the presentation will be weak."
Here are are some possible applications of infographics on a higher ed website:
Fast facts
Points of pride
Breakdown of student body composition
Comparison to peer institutions
Tell a story (e.g. the college's founding, a growth spurt or transformative period)
Track activities around the world/community
Illustrate the significance of a professor's research
Demonstrate the impact of a gift over time
Some examples of infographics in higher ed include:
Not Just For Designers
Last month, Nieman Lab reported that over the past two years, with the aid of templates, the Associated Press has nearly doubled the number of interactive graphics it produces for its subscribers per month. (The AP GraphicsBank still churns out traditional infographics.) Shazna Nessa, director of AP Interactive, calls them "comprehensive interactive stories," created by a blended team of journalists, designers and programmers.
"We wanted a department more specialized in visual storytelling and things that add value to sites and devices of customers," Nessa told Nieman Lab.
And just what about all those devices? In a presentation at the Mobilism conference earlier this month, Yiibu's Bryan Rieger spoke about taking advantage of HTML5, CSS3 and other innovations to create a more adaptive approach to rendering information across varying user contexts (see slide 132).
As part of that discussion, he links to an amazing post by Paul Rouget explaining how to create dynamic, interactive, more easily shareable infographics using HTML5 and CSS3. If you don't have a graphics designer up to the task but you do have a creative programmer, your infographics might not be far behind.
Visual Information Resources
Want to learn more about infographics and visualizations? Look no further.
What are the value of infographics in a higher ed context? How might you use infographics at your institution?
Image created using Wordle