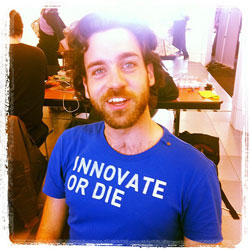 It's a common refrain: we're so busy. We have so much on our plates. It's hard, or impossible, to try new things when we can barely keep our heads above water with our existing CMS, channels, deadlines… the list goes on.
But it's time we realized that innovation and experimentation are not nice-to-haves. They are the core functionality that allows our online channels to thrive and evolve over time — not to mention keep us professionally engaged and satisfied.
As Dylan Wilbanks implored in his best-of-conference HighEdWeb 2010 presentation, "Try. Experiment. But learn to discern."
The Need for Change
Communications is evolving at a rapid pace, and it's a pace that we are not setting. For higher ed to keep up with the rest of the web — and our audience's expectations for online user experience — we can't be complacent. There are a lot of new content ideas and platforms out there (for example, here are a few niche social networks recently covered by Mashable), and we need to carve out the time in our workday to not only read about them, but to explore how they might work for us.
Mark Greenfield is a frequent speaker on the future of higher ed, the inevitable "flattening" he foresees, and what that means for our web marketing efforts. Change is coming, says Greenfield, so what does that mean for us? It means that, one way or another, The Way We've Always Done It won't be the same for much longer. All the more reason to find efficiencies, demonstrate value and explore new models and channels.
Inspiration from Mainstream Media
The newspaper industry has contended with its share of woes in recent years, what with declining ad and subscription revenue (and the resultant budget cuts and layoffs) and an ongoing struggle to keep up with how the web is changing communications. Higher ed can empathize on both counts.
However, even in this challenging climate, The Boston Globe and The New York Times are not shying away from investing in innovation. Both newspapers have set aside physical space in their buildings to create labs dedicated to it. The labs are not for pie-in-the-sky projects, but for ones that have a real chance of making it to market within a year or so.
As Nieman Lab put it (emphasis mine):
In an era where money is tight and newsrooms have shrunk, why carve out room for experiments that may not turn into anything? …Because the traditional business model is in such disarray that it makes sense to invest in ideas that could turn into something bigger. In order for BostonGlobe.com and Boston.com to grow and thrive as online properties, the Globe is counting on its lab to create the kind of products and ideas that will help each site succeed.
"I think in many ways it's perfectly legitimate for an organization like a newspaper to rely on outside vendors and outside companies to track innovation," Globe creative technologist Chris Marstall told Nieman Lab. "But I think it's probably better for us to have some inquiry we do on our own."
How are we any different?
A Challenging Proposition
Ideas are easy. We can sit down for 30 minutes, throw out a topic — say, improving a majors and minors page — and come up with a dozen cool ideas. The challenge is getting from "That's a great idea to "That's a great page that we launched that has had these measurable results." How many great ideas have you seen left on the table after a brainstorming session? How can we better capture, evaluate, eliminate and implement?
The other thing to keep in mind is a product life cycle. Real entrepreneurship isn't just launching a bunch of things — whether it's a departmental Twitter account or a new photo-a-day feature on the homepage — and then abandoning them. Real entrepreneurship is commitment to change, openness to ideas, and improvement of a status quo; it's about seeing things through. As Boston-based marketer Mike Troiano put it, "Launch is for amateurs."
So, how do we balance the need to innovate and experiment with the need for sustainable content practices? We need to plan for innovation, incubating new ideas within a sustainable framework. We must carve out and protect the space where we can safely play and learn.
Be a content entrepreneur.
Making Content Entrepreneurship a Reality
How do we translate an entrepreneurial attitude into practice? Here are some ideas:
Try out new ideas within an existing framework.
Before launching that photo-a-day feature on the homepage, try a special "Photo Week." Before launching that departmental Twitter account, have the department contribute tweets to a school or university-wide account over the course of a day or week. Define and communicate the boundaries of the experiment ahead of time. Measure the results, assess and decide how to proceed.
Get your content allies invested and involved.
Your campus web content committees or social media user groups can be valuable because they can help ensure that innovation doesn't happen in a vacuum. You can have different people try the same new channel or experiment in different contexts. You can learn from each other's mistakes. You can develop and share best practices. You can also preliminarily lay the foundation of consensus that you might need should a new effort prove promising.
Get people who aren't your content allies invested and involved.
If you have writers or editors with 30 years of institutional experience under the belts and a general reluctance to learn how to adapt their craft to new media, try framing it this way: it's not about what they need to catch up on and learn, it's about how their experience and institutional knowledge can inform our exploration of these emerging technologies.
Build innovation touchpoints into your organizational structure.
Add a standing agenda item to staff meetings to discuss and evaluate new ideas. Turn a marker board into a scratch pad for ideas (or a bulletin board into a "mood board" where people can tack up articles, pictures or other inspirations), then talk about those items at your weekly check-ins. At editorial meetings, take turns sharing new ideas or asking, What if?
Establish content "hackathons."
Companies like Facebook sponsor hackathons for their programmers to focus on making new ideas come to life. Why can't we do the same for our content creators? It's sort of what Tim Nekritz did at SUNY Oswego last week with his 24 Hours in Photos project. How about a day packed with as many capsule interviews with students or staff as you can fit? Or extrapolating the 24 hours in photos idea to 24 hours in live video? Chroniclers of the Occupy movement are doing it. You may be surprised with what you get.
Devote 20 percent of your time (or some sanctified fraction thereof).
This phenomenon, popularized by Google, allows employees to set aside a fifth of their week to work on something that is both company-related and of a personal interest. It's easy to see the win-win here, but how can we do this? Well, maybe it's not 20 percent. Maybe it's just 10 percent, or an hour or two a week. Whatever it is, it's important to sanctify the time. Depending on your boss, either ask him/her to hold you to it or don't mention it and hold yourself accountable. Set up a shadow meeting on your calendar. Make a pact with a kindred spirit on campus and put it on each other's calendars, then later share what you learned, or tried. In his 2010 HighEdWeb session, Wilbanks talked about the value of such skunkworks. "Having a skunkworks saved my sanity," he said. "So long as you're getting everything else done, you can work on the secret stuff."

How are you making the commitment to content entrepreneurship at your institution?