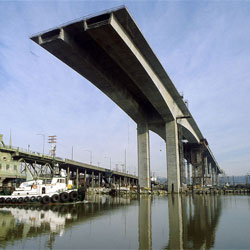 Last Tuesday night, just over a month after we brought Meet Content to life, we brought Meet Content to IRL with our launch event, a panel entitled "Creating and Sustaining Higher Ed Web Content." And the #meetcontent hashtag was hopping!
Our outstanding panelists — Boston University's Nathaniel Boyle, Emerson College's Mike Petroff, Tufts University's Samantha Snitow and Wellesley College's Charna Westervelt — covered a range of topics relating to branding, creation and governance in higher ed web content. Through our discussion, a couple interesting themes emerged, which Rick and I will address this week.
For me, I was struck by how often our conversation strayed to the topic of relationship management. Early in the evening, Rick noted, "Content problems exist because organizations treat the web as a project, not a process." This is very true, and this assessment extends to the types of relationships we typically have in place. Just think of higher ed's propensity for redesigns — the most blatant example of project over process.
Content — anywhere, not just in higher ed — is best supported by relationships that are 1) continuously nurtured and 2) focused on a shared goal. The most meaningful relationships don't have an expiration date, and neither does our content strategy. It is a dynamic process that evolves over time. It cannot subsist on favors and phone calls between strangers.
Overcoming Silos
Many of our institutions tout interdisciplinary collaboration — well, creating and sustaining web content is one of the most interdisciplinary ventures you can undertake. By its very nature, content cannot be contained in a single silo. But higher ed, as our panelists noted, is riddled with silos. This can make it extremely challenging to maintain an effective content strategy. So, how do we overcome the silos? "Cross-pollination" was one term that got tweeted around at the event, and I like the way that sounds — bring different people together toward a fruitful purpose.
Higher ed, as our panelists noted, is riddled with silos. This can make it extremely challenging to maintain an effective content strategy.
As one way of doing this, we discussed the value of standing groups that bring people from different departments together, whether it's an editorial meeting or a social media committee. That c-word (committee) is often a dirty word in higher ed, but when done right — meaning, with clear roles, goals and the actions necessary to achieve them — they can be invaluable to supporting content initiatives. As Kyle Judah observed, "One of the best ways to bring content allies together? Unite the clans — get like-minded folks together around the table and talking."
Bridging the Gap
But what about those who aren't like-minded? The panel broached the topic of the generational divide that comes into play when collaborating with writers or marketers who have been in their jobs for decades and may be resistant to adapting their workflow for the web. How do we make the case for web-first publishing? How do we advocate to shift the magazine from a quarterly publication to a blog? How do we get communications staffers familiar with Twitter? The need for internal education can sometimes be high and requires patience, persistence, adaptibility and above all the identification of common ground.
The need for relationship management even relates to what is often content's "last mile" — technology. Sometimes, even the best laid content plans can be stymied by technological woes, whether it's the need to work through an IT group that is housed elsewhere or doesn't prioritize web content updates, or technical infrastructure concerns. Maybe we're saddled with a CMS that doesn't adequately support our publishing process or content types. Maybe we lack the technology for livestreaming video, or we don't have the developer resources to integrate social media content into our website. How do we bridge the gap with our technical partners, or make the case for the technology we need?
What's Next?
Half of content strategy is relationship management.
If you think about it, half of content strategy is relationship management. Listening, communication, compromise, outreach, collaboration — these comprise the bedrock of a successful approach to content. But higher ed — with its decentralized structures, organizational silos and project-centric approach — presents unique challenges for bringing these efforts to bear toward achieving content goals.
How can we better manage our internal relationships to support our content? How does relationship management affect content strategy in higher ed? How do you make it happen at your institution? These are important questions without easy answers, and we'll certainly tackle them again on Meet Content in the future. But the sooner we start trying to figure it out, the better.