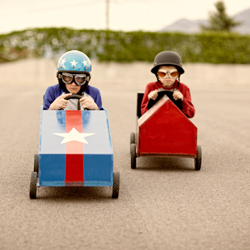 In order to make informed decisions about your website, you need an understanding of what content you have and if it's any good. Hello, content audit! But how do you know if your findings are appropriate, if your recommendations can work, and if your content will put you ahead of the competition? Hello, competitive analysis!
A competitive analysis of web content is an assessment of competing websites based on your content goals. This could be an assessment of branding, usability, accessibility, information architecture, or any other element of your web or content strategy.
The purpose a competitive analysis is to learn what elements of your website work well at other institutions, what problems you want to avoid, and how you can innovate. There are many examples of great content in higher ed, but there are also many—likely more—examples of poor quality content. A competitive analysis helps you stay on the winning side.
Benefits of a Competitive Analysis
Here are some tips to help you reap the many benefits of a competitive analysis.
1. Challenge your assumptions
One of the key benefits of a content audit is that it helps you challenge assumptions. We're all guilty of making assumptions and, to a degree, making assumptions is a necessity. Whether you use quantitative data such as web analytics or qualitative data such as user surveys—or, better yet, a combination of the two—you make assumptions about what findings to look at and how to interpret them. But, when you refine your content audit findings and recommendations, how do you prioritize your insights? Your content goals play a role in these decisions, but it's your own judgments that determine the severity of content problems.
A competitive analysis helps you challenge your assumptions by seeing both successful content and problem content in action. Maybe you think a "mega nav" will solve your findability problems, but then you look at how others implement it, and you realize the challenges of using a "mega" navigation system. Or, maybe you think your news site is "good enough" but then see what others are doing and re-prioritize this content need.
2. Identify content assessment gaps
Before conducting a content audit, you make assumptions about what criteria you should use to assess content. Is your focus on usability, findability, accessibility, branding, information architecture? Regardless of what criteria you use, it's easy to overlook unknown problems.
A competitive analysis helps you to identify assessment gaps. Maybe your content audit focuses on branding, but through a competitive analysis, you realize the importance of information architecture in providing adequate support of your brand message. Or, maybe your content audit focuses on information architecture, but you realize that your labeling system—while intuitive—is not on-brand.
3. Keep your finger on the pulse
Let's face it, staying ahead of the curve on web content trends is tough. Community management, responsive web design, and content curation were not even considerations for most organizations a few years back, but now they're critical components of any web content strategy. In order to maintain useful, usable, relevant websites, we need to stay on top of current web content trends. We need to keep learning.
A competitive analysis can provide insights that are new or that you haven't yet considered. Keep your finger on the pulse of web content trends to maintain best practices and think differently about content problems and solutions.
4. Do it better!
Yes, do it better! Remember, this is a competitive analysis. The higher ed community is supportive and collaborative, but at the end of the day, all institutions are competing for their share of the prospective student market. If you want to stay ahead of the curve, it's not enough to simply adopt others' content solutions—you need to make them better.
Even when your competitive analysis uncovers good—or great—examples of content, aim to make your content better. In recent years, Oregon State's "Powered by Orange" promotional campaign was hugely successful. It is a valuable higher ed case study in branding. But, rather than trying to duplicate Oregon State's success, consider how you can make your content even more awesome.
As with any successful product or service, there is always room for improvement. Be the challenger and drive innovation. Don't plan for good content—plan for exceptional content.
Your Competition
So, you're ready to tackle competitive analysis. Where do you start? Before you can conduct an assessment, first identify your competition. When compiling your list, consider:
1. What peer institutions have overlapping student admissions applications with your institution? What are the top competing schools your prospective students are looking at?
2. What competing websites are successful? Which do a great job with content? Any answer here will be subjective, so seek multiple opinions. And consider the focus of your analysis. If you're evaluating information architecture, concentrate on websites that have an effective IA, regardless of messaging or other content elements.
3. What are the visitor demographics of your competition? (If you don't have this information, do some online research or talk to your admissions office.) How a website is organized, how much content exists, and what topics are covered vary substantially based on the number and characteristics of an institution's web visitors.
For example, maybe a competitor has a large international student body or a high percentage of online academic programs. If these characteristics differ greatly from your institution, then that competitor's website may not be a suitable comparison.
What about assessing non-higher ed websites?
I'm often asked about including non-higher ed websites in a competitive analysis. While assessing non-higher ed websites is worth considering, I typically don't recommend it. There are certainly many great content examples and relevant lessons to be learned from other industries. However, because their target audiences and content goals tend to differ so much from those in higher ed, comparing these websites to yours is rarely appropriate.
Create a short list of competitors
While there is no limit to the number of competing websites to assess, it's best to keep the list short. The number of competitors you look at depends on the scope of work, but generally five or six websites is a good number. You want the list to be adequately diverse but short enough to keep your findings and recommendations focused and relevant.
Defining Competitive Analysis Criteria
As with any form of content analysis, you need to determine what your content goals are. Is the purpose of your competitive analysis to gain insights about branding? Information architecture? Accessibility? Usability? Define the analysis criteria that you will use to assess content. This will help you focus your assessments and ensure consistent evaluations between the websites you review.
Depending on your content goals, you may consider using any number of assessment criteria:
Content organization and navigation
Search
Labeling and taxonomy
On-page content hierarchy
User task completion (usability testing)
Readability
Findabilty
Brand messaging
Accessibility
Content topics
Content types
Content delivery channels
Just like you want to keep your competitor list short and focused, you also want to keep your analysis-criteria list short and focused. While it's tempting to gather more than fewer insights, the challenge becomes making use of those insights. The more focused your findings are, the more actionable your insights will be.
Findings and Recommendations
So, now that you've got pages (and pages) of notes and rankings of analysis criteria, what do you do with your findings? Time to get organized. Synthesize your findings, make recommendations, and plan your next steps.
What are the key themes from your competitive analysis research? What common content characteristics exist among your competition? For example, maybe you discovered that most academic program pages used an inconsistent voice and tone between programs on the same site. Or that site search results were often irrelevant or non-descriptive. Or that admissions blogs were commonly used for generating leads. What content themes—relevant problems and solutions—can inform your content strategy?
It helps to simplify your findings as much as possible. Use charts or "scorecards" to illustrate how competing websites stack up against your analysis criteria. After analyzing my assessment notes, I find it helpful to rate websites "High," "Medium," or "Low" for each of my assessment criterion. Then, I look for trends.
You may find that many websites rank high for labeling and taxonomy but low for findability. Or you may find a website that does all of these things well but that is consistently off brand. Whatever the case, ask yourself what these trends may mean for your website and how you can learn from them to gain a competitive advantage.
Finally, based on your content goals, organize and prioritize your findings and provide recommended "next steps" for yourself or other stakeholders. What problems should be tackled first? What opportunities do you want to act on now?
Few higher ed web professionals spend the time needed to understand their own content. And even fewer spend time trying to understand their competitors' content. But without an understanding of what content works and what doesn't—for both your organization and your competition—you'll never fully solve your content problems or find solutions that give you the best competitive edge.
Has your organization conducted a competitive analysis? Or are you planning one to help improve your website? We'd love to hear your experiences or thoughts!